Our food allergy journey began in September of 2010 when our oldest was diagnosed with an egg allergy.  Within seven short months, our youngest had joined him with a food allergy diagnosis of dairy, soy, peanuts, and tree nuts. Following my little men's diagnosis, my husband and I set some ground rules. At the top of the list was, "No new foods unless both of us were present."  It seemed logical until one day, fancying myself Wonder Woman, I decided to throw our number one rule out the window.
It was a hot July afternoon and I was preparing lunch for my little men.  My youngest, just a month shy of his second birthday, wanted to eat what big brother was eating – hummus.  I carefully read the package and it appeared that the only ingredients he hadn't had before were garbanzo beans and tahini.  I was feeling confident that the hummus was safe, so I called my husband at work and explained that I wanted to give it a try.  Surprisingly, he gave me the green light.
I pulled off the foil lid of the hummus cup, grabbed the bottle of antihistamine and epinephrine auto-injector.  He attacked the hummus with his veggie straws while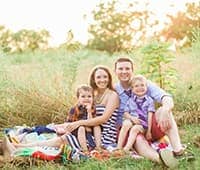 I watched his every move from across the table.  Only four bites in, I began to notice hives forming around his mouth.  I whisked him away from the table, washed his hands and face, and gave him a dose of Benadryl.  I notified my husband of the reaction, noted the time, and began to watch my little man closely.  With previous reactions, a dose of Benadryl always did the trick within fifteen minutes.  Not this time. This time was different.
Within ten minutes, I knew something was wrong.  He was crying uncontrollably and turning bright red, which I figured was from all of the crying.  I didn't use the epinephrine him because he appeared to be stable – uncomfortable, but stable.  I called 911 because I was afraid I wouldn't be able to get him to the hospital in time, should he take a turn for the worse.   The paramedics arrived quickly and my little man's state had not changed.
I explained the situation to the paramedics and asked them whether or not he needed epinephrine.  They took one look at me and said the same thing, "He is clearly uncomfortable, but appears stable."  I breathed a sigh of relief that I had made the "right" decision in not giving him the epinephrine.  However, we all agreed that he needed to go to the hospital.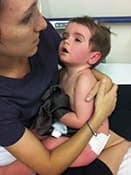 Upon arriving at the hospital, we were quickly taken to a room where ER staff gave him Pepcid and steroids.  Within minutes, everything began to change; his crying stopped, his eyes became glazed over, and although he was still breathing, he went limp in my arms.  The ER nurse quickly called for epinephrine.  I explained to the nurse that I had four epinephrine auto-injectors in my bag.  Her response still shakes me to my core, "No ma'am, we have to use the one that we've called up from the pharmacy."
As I prepared to lose my son, I insisted that my husband, who had made it home just in time to follow us to the hospital, take our oldest out of the room.  I didn't want him to witness the loss of his brother.  As they stood to leave, a medical entourage stormed the room with epinephrine.  I handed my beautiful, brave, little man to my husband and stepped out of the room with my oldest because I was struggling to keep a calm composure.  Even Wonder Woman, in all her glory, can only handle so much.  I heard the "click" of the epinephrine auto-injector, my son's scream immediately after that, and a few seconds later the door to his room opened and I was given the "all clear" to go back in.  He was shaking from the epinephrine, but he was alert. Within a few minutes, was smiling again. 
I learned many lessons that day, the first being that my son is allergic to sesame, which when ground up is called tahini. More importantly, I learned that anaphylactic reactions don't always involve a closed airway.  My little man's body turning bright red was an outward indicator that his blood pressure was dropping, a sure sign of anaphylaxis.   I could go on and on about the lessons I learned, but perhaps the greatest lesson I learned was: when in doubt, ALWAYS give epinephrine.  I can assure you that next time, if there is a next time, I won't hesitate.
-Lauren Kossack
About the Author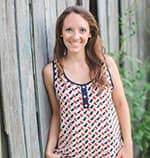 Lauren Kossack is the founder and author of the blog, "Our Life as an Epi-Family." On "EpiFamily.com," Lauren writes with a mix of vivid stories, food allergy news, recipes, parenting tips, and questions of faith.  Lauren bares her heart as she shares her family's struggles, victories and daily adventures.  She is a proud wife and mom to two young boys who have life-threatening food allergies who appear often on her blog.  Lauren and her family currently live in Indianapolis, Indiana. For more information about Lauren and her family, visit www.EpiFamily.com.  
Published: 07/16/2015