Ever wonder if your infant has the capacity to really taste his or her food? Well, this post will address the sens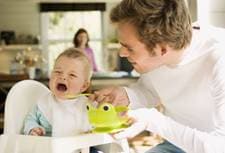 e of taste in infancy!
To start, let's review the basics of the "gustatory system". Taste buds on the tongue relay information to the brain, which is perceived as taste.
The 5 basic tastes of any human are:
sweet
salty
sour
bitter
savory (aka umami).
Research shows that infants are born with a predisposition to accept sweet tastes, such as breast milk. Infants also have a predisposition to reject new foods, a phenomenon known as "neophobia"[1]. During infancy, almost all foods are "new" so it's no wonder that introducing a new food or formula may result in some resistance from your baby.
The good news is that this neophobia can be overcome by repeated exposure to the food. In other words, taste preferences aren't set in stone; they are constantly evolving. With repeated experience, infants accept and may even prefer the previously rejected food. One study observed mothers who presented a particular food daily over a period of time. The researchers found that it took 15 feedings for the infants to accept the new food readily.
Therefore, whether you are introducing solids or switching over to Neocate from another formula, don't be discouraged! It is not only ok, but normal for your little one to reject the new food at first. Just be patient and persistent and continue to present the food in a positive manner.
An interesting tidbit: An infant's perception of bitter taste is developed several months after birth. A study found that newborn infants did not reject the taste of bitter, while older infants did[2]. Another study identified the time period for this developmental change to be around 4 months of age[3]. The researchers found that infants who were put on a specialized, broken down formula (which have a slightly bitter taste due to the broken down protein) before the age of 4 months transitioned to the new formula with no resistance.
After this age, the infants identify the change in taste and moms may have to be a bit craftier to transition their little one onto the new formula. The researchers pointed out that a gradual transition, where the new formula is mixed with the previous formula, helps older infants to accept the new formula. This allows infants taste buds to gradually and repeatedly be exposed to the new flavor and associates the flavor with something that they already like (the previous formula).
What tastes did your child prefer when you first began introducing foods? Have you noticed any change in their taste preferences as they get older?
– Mallory West
Published: 02/04/2010