Is stress impacting your family? As parents and caregivers, we might not always make ourselves a priority. Daily pressures can add up, causing us to stress out.  When you do start to stress out, are you able to recognize it and take steps to de-stress?
A New Year signals a new beginning, let's slow down and take a look internally at what we can do to understand and lower the levels of stress we experience.
What is Stress?
Stress is your body's way of responding to any kind of demand. It can be caused by both good and bad experiences. When we are stressed, our bodies release chemicals that signal us to react.
Good stress on our body, to a point, increases productivity. However, negative stress can cause the opposite effect on our bodies. In essence, we have a breaking point after which our bodies start to signal that it's time to pull back and relax: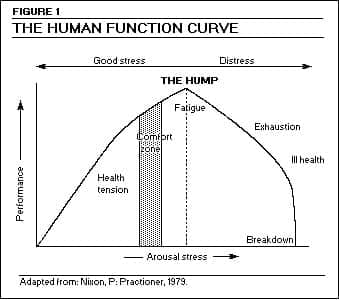 (Photo Credit: Elon.edu)
What Causes Stress?
Stress can be brought on for a number of reasons. It's also important to note that some instances might impact you much more than the person next to you and vice versa.  For example, think about that popular ride at the amusement park. You might freak out and be scared to death about going on a ride. Your palms might sweat, your heartbeat might start spiking and maybe even your breathing becomes intense. However, your friend might be excited, laughing and having the time of his life going on the same ride. Same stimulant, different reaction.
A study conducted by the American Psychological Association identified the most common causes of stress in Americans. Between 2007-2010, the top three causes of stress were money, work and the economy.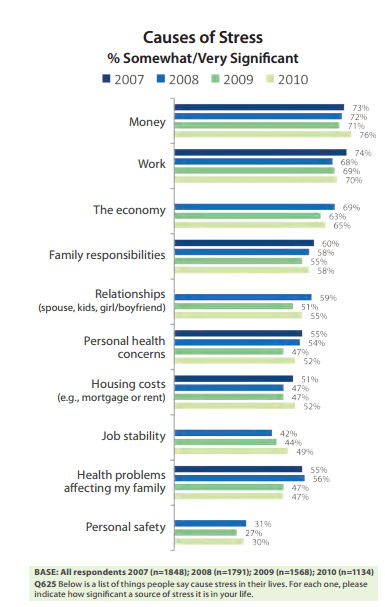 (Photo Credit: American Psychological Association)
Why Should You Care?
According to the National Center for Biotechnology Information, it is estimated that up to 75 percent of all visits to physician's offices are stress-related. There are some studies that are starting to look at the potential relationship between stress and increased susceptibility to infections and various other diseases. There's already evidence that caring for children with food allergies can cause parents to miss more work and experience more financial stress. Ongoing research is finding that family quality of life may be affected by food allergies.
Scary right…
Our stress as parents and caregivers doesn't just impact us alone. As a caretaker, we have to be cognizant of the impact stress can have on our families as well.
The same study from the American Psychological Association quantified the impact of the stress we feel as parents, on our children. The study showed that younger children tend to feel more worried and frustrated when their parents are stressed out.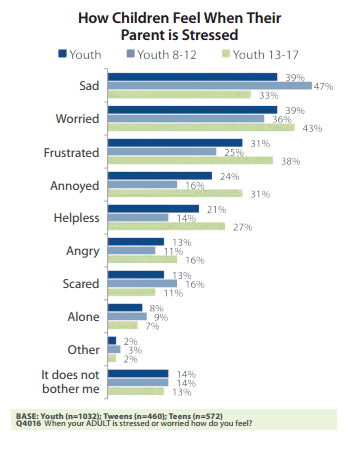 Additionally, more parents than nonparents say they are not doing enough to manage their stress (31 percent vs. 20 percent). Parents are more likely than nonparents to report engaging in unhealthy stress management techniques, such as drinking alcohol (18 percent vs. 12 percent) and smoking (17 percent vs. 10 percent).
Such staggering data show how important it is to take the time to take care of yourself, not only for you, but also for your family.
Signs of Stress
The first step in managing your stress is to learn the signs of stress so that you can recognize when you need some "you time."
There are many signs of stress. They can be mental and/or physical. Here is a list of potential stress-related signs our bodies might feel one or combination of the following:
Irritability/Anger
Fatigue
Lack of interest, motivation or energy
Feeling nervous or anxious
Headache
Feeling depressed or sad
Feeling as through you could cry
Upset Stomach or indigestion
Muscular tension
Change in Appetite
Change in sleeping patterns
Teeth grinding
Change in sex drive
Tightness in chest
Feeling faint or dizzy
Change in menstrual cycle
Increased heartbeat and faster breathing
Increased perspiration
Erectile dysfunction
Other
Nothing
What Can You Do About Stress?
There are numerous resources and techniques available for managing stress. Later on this month, we will devote a blog post to diving a bit deeper into stress management techniques, so stay tuned for that!
In the meantime, take an honest look at your surroundings and think about your stress triggers. What is stressing you out? How do you currently deal with stress? Is it a healthy approach? Is there anything you can do about the sources of your stress?
If you need more ideas today, check out this list of 10 Tips to Ease Stress, provided by WebMd.
What stress management techniques work best for you? Share below; it might help another caretaker just like you.
Published: 01/14/2016