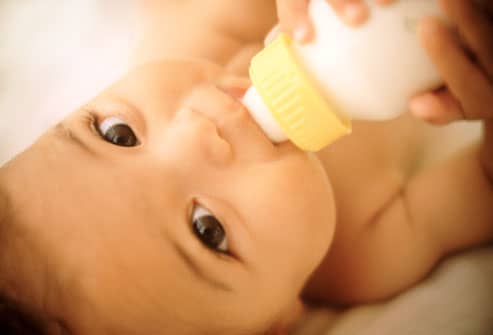 How much Neocate does my child need?
Q: After going through almost every formula, my baby's allergist told me I should give her Neocate Infant DHA/ARA. I need to know how many cans to buy and how much does my baby need to drink?
A: Many parents of infants, toddlers and children new to Neocate have this question. There's never an exact answer, so here's what you need to know:
We are always happy to help, but this important question about your little one's health is best answered by the members of his/her healthcare team. They know your child's medical history and needs, have lots of experience, and can give you the best guidance. With that in mind, we can offer some general guidelines.
The volume of Neocate needed depends on calorie needs, which can vary a lot from person to person. Factors that affect calorie needs include age, weight, gender, height, medical conditions, and how active someone is.
Another term you might hear is "catch-up growth," which can come up if your little one falls behind on the growth curve and needs to gain extra weight (beyond normal weight gain) to "catch up" to where she should be. It can mean she will need additional calories from Neocate or foods in the beginning to catch up, especially if the medical team feels she is behind on the growth curve.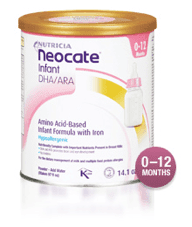 Neocate Infant
If your little one is bottle-fed, you can expect that he or she will probably consume about the same volume of Neocate InfantDHA/ARA as of the current formula. The amount of Neocate may increase or decrease a little bit, especially in the beginning. And over time, as your baby's calorie needs grow, the amount of Neocate per day will also grow. Once solids are introduced, they will gradually make up more of your baby's nutrition. Without being too specific, here are some general ranges for daily amounts of formula by age*. These ranges are for infants who are exclusively formula-fed, and will be less for infants who take solid foods:
1 – 3 months……..roughly 20 to 30 fluid ounces (fl oz)
4 – 6 months……..roughly 24 to 34 fl oz
7 – 9 months……..roughly 29 to 39 fl oz
10 – 12 months….roughly 34 to 44 fl oz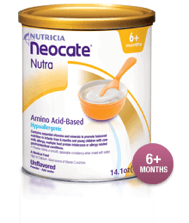 Neocate Nutra
As the only amino acid-based semi-solid that can be spoon-fed, Neocate Nutra has been a big help for many families dealing with severe and multiple food allergies. Neocate Nutra has high levels of several key nutrients, but is not meant to supply all of a child's nutrition. For infants six months and older, Nutra is used along with Neocate Infant DHA/ARA or another hypoallergenic infant formula.
Follow your healthcare team's recommendations for a serving size of Nutra to offer your little one and how many times a day to offer it. Many healthcare teams suggest starting with a smaller serving size (4 scoops of Neocate Nutra + 1 fl oz of water) and offering it two or three times a day. For older children, a larger serving size (8 scoops of Neocate Nutra + 2 fl oz of water) may be recommended.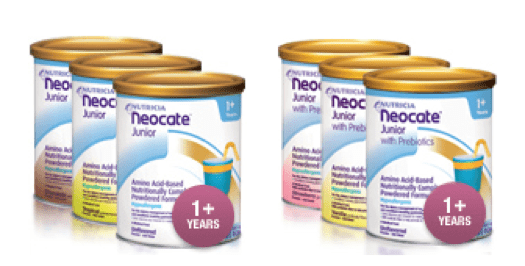 Neocate Junior and Neocate Splash
While Neocate Junior and Neocate Junior with Prebiotics can meet a toddler or child's full nutritional needs, these formulas are often used along with solid foods or other beverages, such as with an elimination diet. This can make the Neocate serving amount per day a bit tricky to nail down, which is where a healthcare team comes in very handy! It often depends on the foods your child avoids and any nutrient gaps in their diet. For instance, many children with milk and soy allergies use Neocate Junior as a major source of protein, calcium, vitamin D, and other nutrients important for bone health. The same is true for Neocate Splash.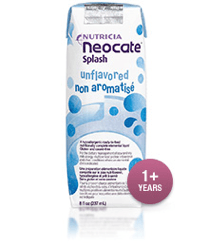 Some children require an amino acid-based formula to meet their full caloric needs. Some examples would be a child with eosinophilic esophagitis (EoE) that is on a strict amino acid-based diet for six weeks, or a toddler with severe allergies who hasn't yet found safe foods. The following are some general ranges for daily amounts of formula by age* for active children who are strictly on Neocate Junior and often drinking Neocate Splash as well:
1 to 3 years…….roughly 27 to 47 fl oz
4 to 8 years…….roughly 50 to 62 fl oz
9 to 13 years……roughly 65 to 81 fl oz
Again, these are general guidelines. Your little one's healthcare team can take all of the key factors into account to provide you with a tailored recommendation for your child. They will also monitor your child's growth on Neocate and adjust the amount of formula as needed to meet his/her calorie and nutrient needs.
We hope this rundown helps! What questions do you have about the volume of formula needed?
*Ranges for formula are extrapolations based on "Dietary Reference Intakes for Energy," Food and Nutrition Board, Institute of Medicine of the National Academies.
Published: 12/12/2012