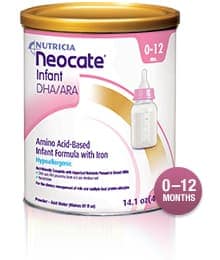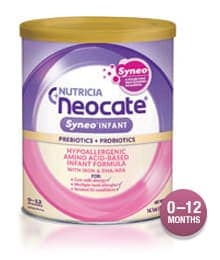 As you may have heard, we rolled out our improved Neocate Infant in fall of 2013 in the United States! We were excited to roll it out as it has many improvements over the last version of Neocate Infant. One of those is the fact that we took out the soy oil in the Neocate Infant product.
We used to get lots of questions about the use of soy oil in infant formulas, and comments from parents who would rather see a different type of oil used instead of the soy. We are happy to say, we listened and did just that!
Is Neocate Infant DHA/ARA Soy Oil Free?
Many parents ask if Neocate is soy free. We can't claim that it's soy free, because to make that claim we'd have to regularly test Neocate to confirm that there is no detectable soy protein. We don't regularly test it, so we can't make that claim. However, we don't use any ingredients in Neocate that are derived from soy.
In place of the soy oil, we use canola oil now. Canola oil is also a great source of omega 3 fatty acids, which are commonly referred to as "anti-inflammatory" and are an important type of fat for humans to have in the diet. We have been hearing great feedback from families using the improved version of Neocate who are very happy to see the soy oil replaced with canola oil. When families are happy with Neocate, we are happy!
Is Neocate Syneo Infant Soy Oil Free?
2016 UPDATE: launched in the fall of 2016, Neocate Syneo Infant also does not contain soy oil! That means that the entire range of Neocate products available in the United States does NOT contain soy oil. Neocate Syneo Infant is the first and only hypoallergenic formula with added prebiotics and probiotics. You can read more about Neocate Syneo Infant, our most advanced hypoallergenic infant formula.
Have questions about Neocate infant formulas? Feel free to ask us below!
Published: 11/24/2015