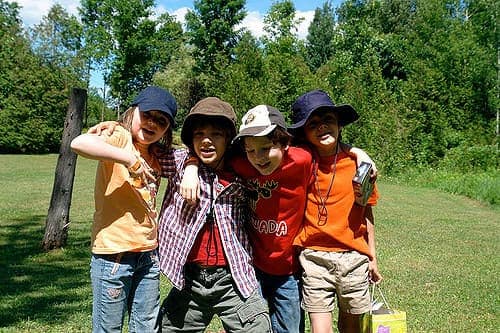 Summer camp is an invaluable childhood experience full of fun, learning and personal growth. However, for parents with children who have severe food allergies, sending your child away to camp can be very scary. How can you be sure there are safe food options? And what if there is an allergic reaction? Will the camp know what to do? These fears are legitimate but it doesn't mean your child has to miss out on all the fun. Hopefully, this entry will offer some guidance on how to ensure a safe and enjoyable camp experience for your child with food allergies.
Childhood food allergy is an increasing phenomenon and awareness is starting to catch up. A few camps cater specifically to children with food allergies.
One option is Camp Emerson ("the Food Allergy Specialist"), in the Berkshire Mountains of Western Massachusetts. On the Web site, Camp Director Sue Lein writes, "The Food Allergy Camp Team meets individually with your family to respond to your child's needs. Our goal is to ensure that your child is able to eat safely and enjoyably at Camp Emerson. We want your child to feel like 'everyone else' in the dining hall."
Another such camp is The Center for Courageous Kids. This camp, located in Scottsville, Kentucky, has different themes throughout the summer and fall, each catering to a specific childhood medical condition. This year, there is a retreat weekend dedicated to children with severe food allergies scheduled for September 17-19. A unique feature of this program is that the whole family attends.
The YWCA Outdoor Education Center in Edmonton, Alberta (Canada) offers a program for kids with food allergies during session 4 of camp (July 26-30). On the Web site, the camp writes, "In partnership with Alberta Allergy Information Association, we are pleased to host a camp for children with severe food allergies. This camp, to be held during Session 4, will enable children with severe and life threatening food allergies to enjoy camp life in a safe environment."
Next summer there will be many more options for campers with food allergies! Camp T.A.G.: A Safe Place for Food-Allergic Children and Their Siblings will open in various locations for the summer of 2011. The 11 cities chosen for the summer 2011 launch are: Joliet, Ill., Oak Brook, Ill., Minneapolis, Minn.., Houston, Texas, San Francisco, Calif., Raleigh, N.C., Philadelphia, Pa., Fairfax, Va., Silver Spring, Md., Long Island, N.Y., and North New Jersey/New York City.
Not everyone can attend a special food allergy camp so another option is to work with local camps to accommodate your child's food allergies. The Food Allergy and Anaphylaxis Network has created "Guidelines for Managing Food Allergies at Camp" to help you through the process. The guidelines are divided into responsibilities of the parents, the camp and the campers and lists proper preparations and procedures to protect children with food allergies during camp.
Be sure to sign up soon! Camp application deadlines are fast approaching and you want to provide ample time for any special accommodations. Know of any other food-allergy friendly camps? Make sure to post them here! Happy trails!
-Mallory West
Published: 03/18/2010