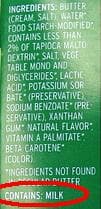 Grocery shopping is always a hard task, but it is even harder when you are shopping for someone with food allergies! Worse, the ingredients your little ones may be allergic to can be hidden within the food label. With our latest series, we will aim to uncover some of the sources of hidden allergens.
New food labeling laws require the top eight food allergens to be listed on food labels. This is really helpful for those reading food labels; however, sometimes allergens can be hidden in the long words in the ingredient list.
Dairy is one of the ingredients which tends to be hidden in foods that you may have otherwise thought were safe. I wanted to share with you a list of some ingredients to watch out for. Some of these definitely contain diary, while others only possibly contain diary.
When viewing the list below, it's important to always err on the side of caution. If you think there may be traces of dairy in something, call the manufacturer of the product you would like to purchase and inquire. If they cannot guarantee that the product is free of dairy, avoid it!
Foods with dairy ingredients:
Milk and milk products(including condensed, derivative, dry, evaporated, goat's milk and milk from other animals, low-fat, malted, milkfat, milk protein hydrolysate, nonfat, powder, protein, skimmed, solids, whole)
Butter, butter fat, butter oil, butter acid, butter ester(s), buttermilk
Casein, casein hydrolysate, caseinates (in all forms)
Cheese
Cream
Diacetyl
Ghee
Lactalbumin, lactalbumin phosphate, lactoferrin, lactulose
Pudding
Recaldent®
Rennet casein
Sour cream, sour cream solids, sour milk solids
Tagatose
Whey (in all forms), whey protein hydrolysate
Yogurt
Foods with potential dairy ingredients:
Artificial or natural flavorings (anything which is derived from butter, cream and egg flavors)
Chewing gum
Deli meats
Fat replacers
Many types of chocolate (although dark chocolate is often free of dairy)
Margarine
Prebiotics (galactooligosaccharides, also known as GOS, are derived from dairy sources. Don't worry, Neocate Junior only contains prebiotics in the form of inulin and fructooligosaccharides, also known as FOS, which are derived from vegetables.)
Salad dressings
For a more complete list of foods to avoid when accommodating for a dairy allergy, visit the Food Allergies and Anaphylaxis Network website or check out Alisa Marie Flemming's book Go Dairy Free: The Guide and Cookbook for Milk Allergies, Lactose Intolerance, and Casein-Free Living and website for more resources.
Can you share any foods you have found that have surprising hidden dairy ingredients?
– Nita
Published: 05/04/2010