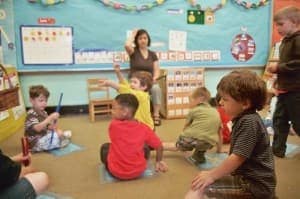 If you have toddlers, you know that January through March is preschool sign-up season. Starting preschool is a big step for all parents and children. If you have a child with food allergies, this may be the first time your child has spent extended periods of time outside of your care. So, it is extra important to find a preschool or childcare facility that is willing to accommodate your child's allergies, and to make extra preparations to ensure their safety.
Here are some tips for how you can find an allergy-friendly preschool and make sure you both are prepared for the transition.
Visit several preschools and be upfront about your child's needs. Some schools may not be willing to make special accommodations for your child, so it is best to ask about this first before you've spent time meeting with teachers and attending open-houses. You can also look for language that is welcoming and inclusive of children with food allergies in their brochures. Asking if they have any other children with food allergies is another good way to gauge how well-prepared a preschool is to meet your child's needs.
Ask for a recommendation from other allergy families. If there are other children in the preschool with food allergies, have the preschool staff pass along your contact information and ask them to give you a call. As we all know, the allergy community is welcoming, and speaking with other parents in similar situations can help put you at ease. It may also help you with advance preparations.
Develop an action plan with your child's teachers and other staff. Once you have selected a preschool, it is important to sit down with the key staff your child will be interacting with to educate them about your child's allergies and create an action plan. The plan should cover how to deal with snacks/lunch each day, what will happen on holidays and other special celebrations involving food, the potential for cross-contamination or accidental exposure, how to spot symptoms of an allergic reaction and how to treat them.
Make sure your child is aware of their restricted diet. If your child knows what foods are safe and what to avoid, it can be extremely helpful to avoid exposure to allergens. If you can, teach them only to accept food from a designated caregiver or teacher and not from other children (however well-meaning they may be, they often don't completely understand food allergies at this young age).
Label your child's lunch bag or cubby. This will help avoid any mix-ups. You can order allergy labels online or make them yourself.
Educate your child's class about food allergies. With food allergies on the rise, chances are that your child will not be the only one in their school with food allergies. Volunteering with other allergy parents to talk about or read a story about food allergies will not only help your child's classmates understand more, but hopefully they will be more accepting of them.
We hope our tips are helpful as you search for the right preschool for your child. If you've been through this process before, be sure to share your experience with us!
Published: 01/28/2011