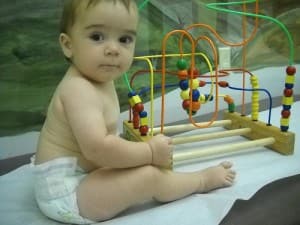 Do you have a doctor's visit coming up and wondering what to expect? Whether it be a well visit, a sick visit, or a visit to a specialist that you've been waiting to see, it's always good to go prepared and know what to expect as best as you can.
Before your visit
The first thing that always comes to my mind when going to see a new doctor is all the paper work that must be filled out before the exam. This usually requires arriving early and taking 15-20 minutes to complete all the forms. If you're anything like me after having my little one, arriving on time – let alone early – is a challenge within itself. It can also be hard to keep your little one entertained and sitting quietly while you fill out all the paper work. Some pediatric offices are making their required forms available online to download and complete before you get there which is a big help. If your doctor's office does not have this available, call and ask if they can mail the paper work to you ahead of time.
Another helpful thing to do before your visit is to write down all those questions that you've been thinking of to ask the physician. It's easy to get distracted and conversations can easily go down one particular path, especially when dealing with food allergies. The topic of most visits would probably be just that – food allergies, but what about those other questions that you had, like sleeping issues, or maybe a behavioral issue. If you write down your questions you'll be sure to leave with all of your answers.
If possible try to bring your significant other, grandparent, or close family friend to the visit with you. It's always good to have an extra pair of hands if your infant starts crying, or your toddler starts to misbehave. It's also good just to have a second set of ears to listen so you don't miss anything.
During your visit
As with most doctor visits, a weight and height check is always to be expected along with listening to heart and lungs, maybe checking ears and asking about what's been happening since your last visit. Most pediatric doctors are also interested in hearing about your child's developmental skills, like can your infant sit up, or can your toddler stack blocks.
Now is your opportunity to ask all those questions that you have written down. Don't be nervous to ask what you think is a dumb question; a good doctor will hear anything and be happy to answer. If not, you may want to think about switching doctors. If it's something that worries you, ask – no question is too minor. And if you need clarification on a question that has been answered at a previous visit or even at the beginning of this visit, it's always best to ask again so you are not left guessing. Also, you may want to have the doctor write down what they are recommending so you don't forget when you get home.
After your visit
If a follow-up visit is necessary, try to schedule it before you leave the office. This can save you time and help get you in with less of a wait.
If you have visited a specialist, follow-up with your pediatrician to make sure your specialist relates all of their findings back.
What other tips/hints have you discovered to help get yourself prepared for doctor visits? Would love to hear about them.
– Sarah O'Brien
Published: 02/22/2011