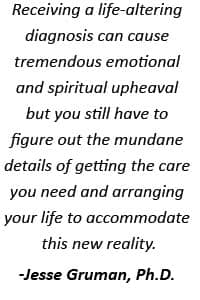 Our post today is a guest blog entry from Lynda Mitchell, founder and president of Kids With Food Allergies, a national non-profit food allergy support group. We'd like to thank her for guest blogging for us.
In her book, AfterShock, social psychologist Jessie Gruman, PhD, the president of the Center for Advancing Health, writes about what to do when the doctor gives you – or someone you love – a devastating diagnosis. Although she may not have had a food allergy diagnosis on her mind when she wrote it, much of what she spells out in her book would generally apply to how we, as parents, feel when we find out one of our children has been diagnosed with food allergy. Let's face it: food allergy rocks our world – it not only changes our whole family's lifestyle and greatly impacts our quality of life, it also requires meticulous management to keep our children safe and reaction-free. Knowing that our children could have an allergic reaction and change from the picture of health one minute to life-threatening anaphylaxis the next adds much stress to our lives as well.
National nonprofit organization Kids With Food Allergies has a very active online community for families, and many members join to learn about food allergies and to connect with other parents for day-to-day support when they are dealing with a new diagnosis. From the outset, we've seen parents asking the same questions and searching for the same answers to learn the basics immediately after diagnosis to understand what they are dealing with and learn how to keep their children safe.
With that in mind, and knowing that many Web-savvy families search the Internet looking for information about food allergy when their children are diagnosed, we decided to create a getting started guide for families – a free e-book, From Confusion to Confidence, that doesn't answer every possible question, but rather focuses on the essential things you would need to know – those "mundane details" Dr. Gruman references – if your child is just diagnosed with a food allergy. This free guide includes a 42-page compilation of articles, checklists and resources on topics ranging from understanding food allergy, diagnosis and treatment to day-to-day management of nutrition, cooking, shopping and living with food allergies.
Please take a look; download it and spread the word that it's now available for families and can be a ready resource if they face a new diagnosis.
– Lynda
Published: 01/21/2010