Needing allergy-friendly treats to host a birthday party for your food-allergic child who's on a restricted diet? When your child has a food allergy or another condition limits foods he can eat, a typical birthday cake may not be an option. For example, most cakes and baked goods call for dairy, eggs, and wheat. All three are among the top eight allergens in the US! In fact, fish and shellfish are the only two of the top allergens that do NOT regularly appear in baked goods.
Let's look at a few allergy-friendly options you can try for your next celebration. Please keep in mind that allergy-friendly doesn't necessarily mean allergen-free, so be sure to confirm the ingredients are appropriate for your child's specific food allergies.
Allergy-Friendly Treats: Birthday Cakes
Birthday cakes are so much more than just the ingredients that go into them. They represent the milestone of another year of life. When your child has food allergies or a related condition limits her foods, a typical birthday cake may not be an option. Here are a few alternatives to a traditional birthday cake that could make a great allergy-friendly stand-in.
Birthday Trifle "Cake"
Instead of a cake, a trifle might be the next best thing. You can layer almost any dessert-type items along with fruit in a trifle dish to make a dessert worthy of candles. It looks fancy, tastes delicious, and everyone can enjoy.
How to make a Trifle "Cake":
Start by choosing fruits your child likes in an age-appropriate form (pureed or cut into small pieces for toddlers, or slices for an older child).
Add a layer of a favorite baked good, if you have a "safe" one to choose from. Ideas include allergen-free cookies that are whole, cubed, or crushed into crumbs. Looking for ideas? Try the Neocate Food Allergy Cookbook.
A pudding or something similar makes a great third layer. Boxed pudding mixes aren't an option? Then make a starch-based pudding and replace cow milk with fruit juice. Another option is to create a pudding using Neocate Nutra (if your child is over the age of 6 months).
We find that mixing Neocate Nutra with half the water that the directions suggest gives a nice pudding-like consistency. You could even make a flavored version by adding Neocate Junior or Neocate Splash to Nutra.
Once you choose your fillings just keep repeating layers until you reach the top of the trifle dish!
Add candles and other decorations. If you can't use icing, wash a plastic toy in hot soapy water, rinse, and dry for the ultimate "cake"-topper!
Allergy-Friendly Treats: Yellow Cake with Frosting (Submitted by Jessica Snell)
Cake:
1 box suitable yellow cake mix
1/3 cup melted suitable "butter" or margarine (e.g. dairy/soy-free butter)
3/4 cup water
Follow baking directions on cake package.
Frosting:
1/2 cup suitable "butter" or margarine
1 tsp water
Add powdered sugar to reach the desired consistency and sweetness
1/4 tsp almond flavoring, optional
3 drops food coloring, optional
Melt butter, mix in powdered sugar to make clumpy. Add water to smooth it out. For the thicker, sweeter frosting, add more powdered sugar. Once desired consistency is reached, add almond flavoring and 3 drops of pink food coloring, if using.
This recipe makes ~12 servings
---
Allergy-Friendly Treats: Egg-less, Dairy-Free Chocolate Cake (Submitted by Daphna Finn)
3 cups all-purpose flour or a suitable substitute
2 cups white sugar
6 Tbsp unsweetened cocoa powder
2 tsp baking soda
2 tsp baking powder
2/3 cup vegetable oil
Water-2-cups
Distilled white vinegar-2tsp
Vanilla extract-2tsp
In a large bowl, combine all dry ingredients. Combine all wet ingredients in another bowl. Pour the liquid ingredients all at once into the dry ingredients and beat just until smooth. Pour batter into a greased 9 x 13" dish. Bake at 350°F for 20-25 minutes. Let cool in pan. When cool and ready to serve, sprinkle with confectioners' sugar.
This recipe makes about 15 pieces of cake.
---
Allergy-Friendly Treats: Banana Cake (Submitted by Anne Medsker)
1 1/2 cups sugar
Stick suitable unsalted margarine
2 eggs, or a suitable substitute
1 tsp vanilla
1/2 cup rice drink or another milk substitute
Mashed banana – 1 cup
A tsp of baking soda
Baking powder 1-tsp
1/2 tsp salt
1 1/2 cups all-purpose flour or a suitable substitute
Preheat oven to 350°F. In a mixing bowl add sugar and margarine and beat with mixer until blended. Add eggs and beat until smooth. Mix in rice drink, vanilla, and banana. In a separate bowl combine baking soda, powder, salt and flour and whisk together. Slowly add dry ingredients into the wet and beat 1 minute, just until combined. Grease a 9 x 13" dish with canola oil or baking spray. Pour in batter. Bake about 25 minutes, until a toothpick inserted into the center comes out clean.
Kids with Food Allergies(KFA) also has a good variety of cake and icing recipes to try. Here's a recipe from their website:
---
Basic "Buttercream" Icing (Created by Laurie Carson)
1/2 cup shortening
1/2 cup suitable margarine
1 tsp vanilla
4 cups powdered sugar
3 Tbsp water
Beat all ingredients together thoroughly. To make it thinner, add a little light corn syrup.
You could add cocoa or carob powder to the icing to make it chocolate if desired. I also added a drop or two of almond extract to take away some of the sweetness, but it's fine without it, too. Please note that margarine typically contains milk or soy, but there are milk-free and soy-free versions available.
---
Allergy-Friendly Treats: Cake Alternatives:
Sometimes a traditional cake isn't the best option for your child. That's ok!
Who says that an equally delicious dessert can't make a stellar stand-in for cake? Not us! Our Neocate Food Allergy Cookbook lists several dairy-free, allergy-friendly dessert ideas for other great foods that most kids would enjoy.
For kids who are fully tube fed or formula-fed, non-edible birthday cakes are an option.
You can create one with a bit of imagination and some cardboard, foam paper, ribbon, tissue paper, and glitter paint. Once you have the basic shape of the cake made from cardboard (or foam), poke little holes in it and insert candles for your birthday boy or girl to blow out (just make sure to practice fire safety!)
If you need some inspiration for non-edible birthday cakes, check out these creative ideas that have been submitted to us in the past:
Connor's birthday "Neo-Cake"
Sy's Foodless Bowling Cake (image source Nomuck.com)
Mallory's Cake for Caroline
"My sister Caroline has a feeding tube but up until last year, she was able to eat SOME food by mouth so we always just got her a regular birthday cake. She can no longer have any food by mouth due to swallowing problems so this year, I made her a fake pink and purple princess cake out of cardboard, foam paper, ribbon, tissue paper and glitter paint (pictured below). We poked little holes in it and inserted candles for her to blow out. Her favorite part of birthdays is singing and blowing out the candles so she didn't even seem to miss eating cake. In fact, I think she loved this food-less cake even more because she can keep it and we can relight the candles and sing over and over again (although she might think she is 300 years old by now)."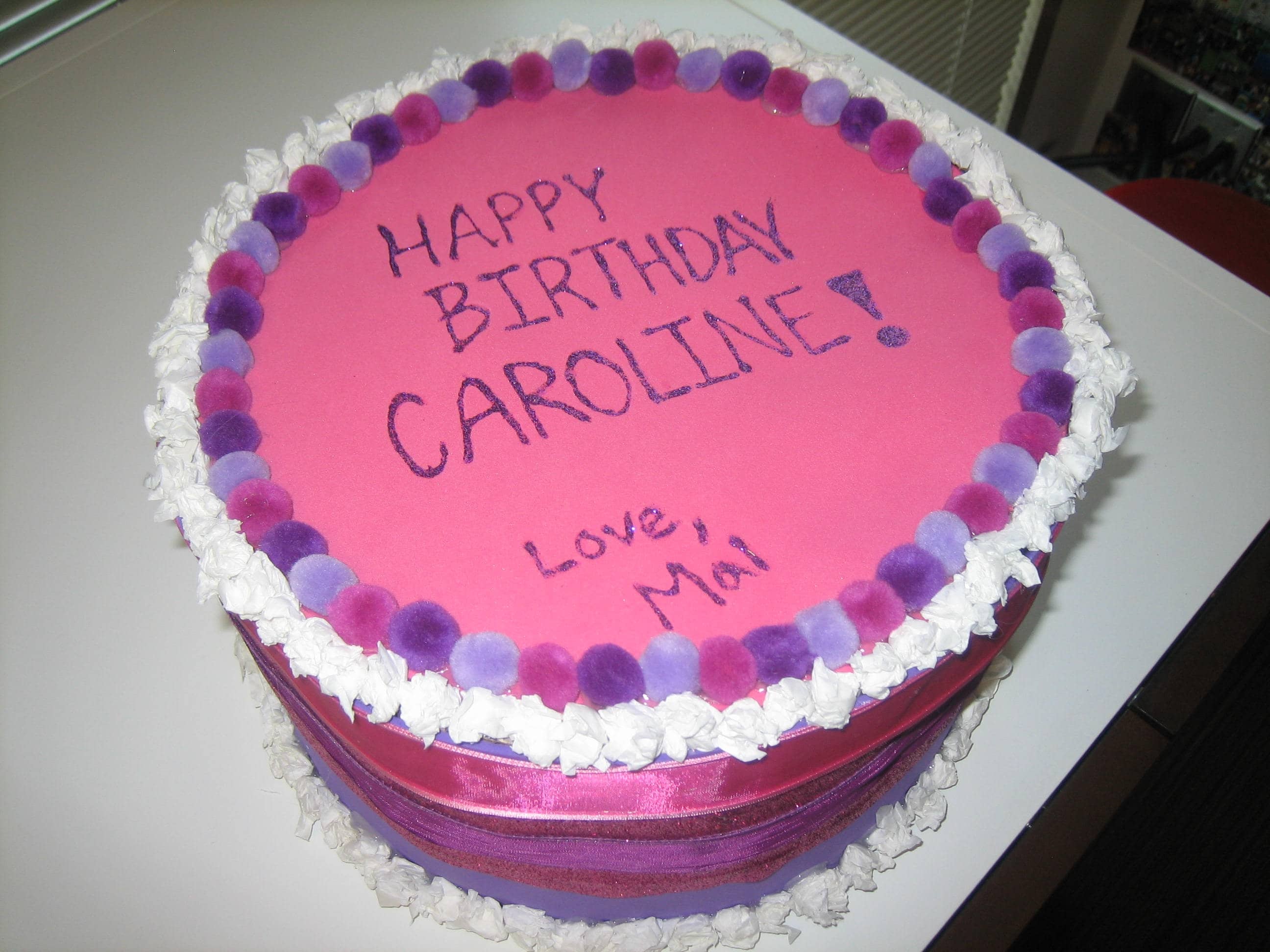 Remember, celebrating birthdays is so much more than cake. By creating a no-cake birthday cake, you can still sing birthday songs and blow out the candles. And you can keep your food-less cake as a great keepsake: Bonus!
---
Cake Decorations
Once you've decided on your Allergy-Friendly Treats or cake, get creative and have fun decorating! We found some fun ideas to help you get started:
Better Homes and Gardens: Creative Birthday Cakes for Kids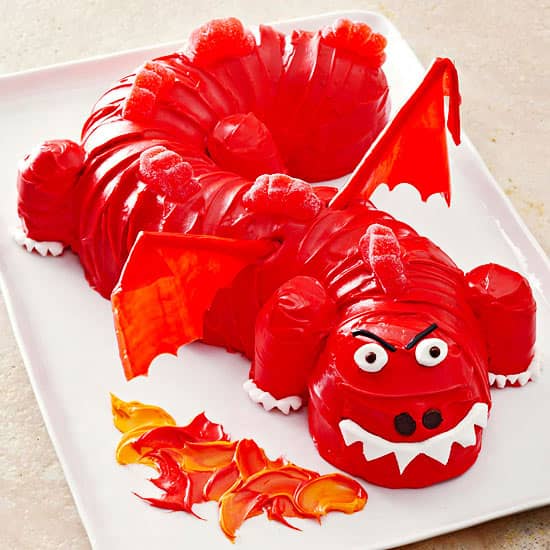 Unique Birthday Cakes Gallery (from Parenting.com)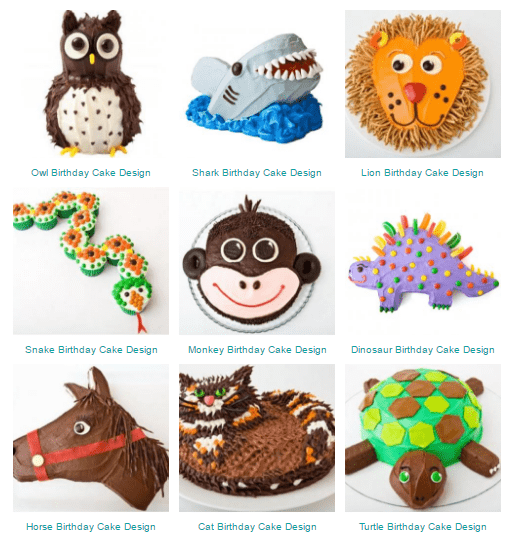 You can even use Neocate cans to decorate creatively like Sensitive Mommy!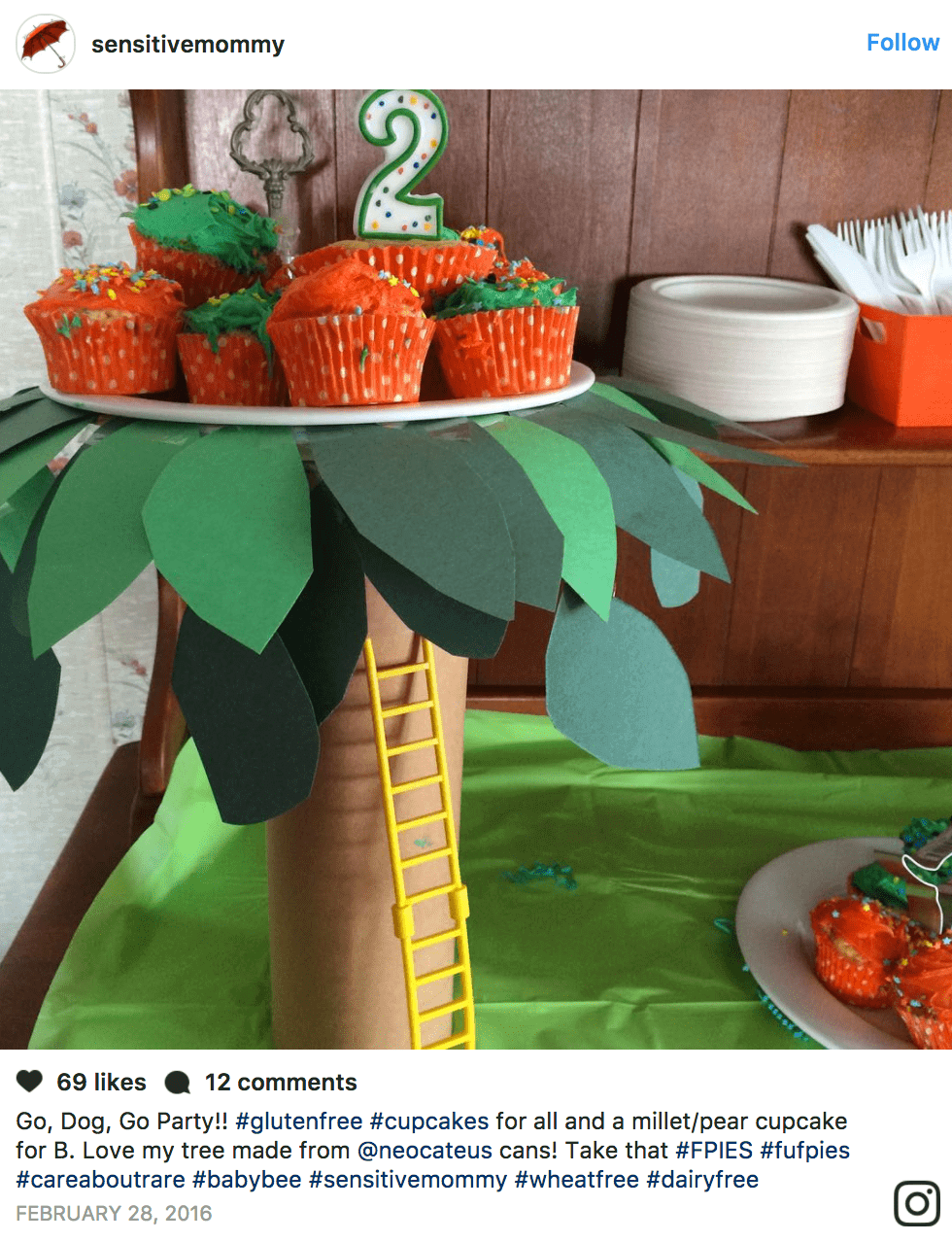 The moral of the story is that food restrictions shouldn't stop you from giving your little one a happy birthday. When it comes down to it, birthdays are not about the cake but making your little one feel loved on their special day. With a little creativity, you can still have a great time celebrating another year and milestone.
Do you have a little one with a birthday coming up? What will you do to help them celebrate? Comment below or find us on Facebook.
This blog was originally posted on August 8, 2013
Last updated on April 24, 2018.
Published: 08/23/2017