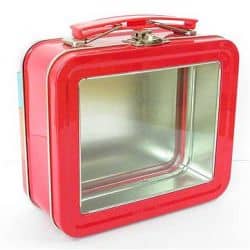 The topic for today's post in our allergy-friendly meal idea series is lunch! Just like with breakfast, a lot of the go-to lunch options for most children aren't suitable for children on a diet that has allergy restrictions. Here are some lunch ideas that might help you add variety. As always, check with your little one's health care team to make sure they are appropriate.
Neocate-Only Lunch Ideas
For children whose diets are strictly limited to amino acid-based formula, the same formula one lunch after another can become very routine. One great option Nutricia offers is the multiple flavors of Neocate Splash. Many children find restrictive diets less of a struggle if they have a say in the flavor. On top of this, Splash is packaged in kid-friendly drink boxes so that nobody knows their drinking a special medical formula. Another option is to send your little one to school with a great Neocate-only pudding recipe such as Nutra Mashed Potatoes. But why stop with potatoes? Experiment with mixing the different flavors of Neocate Junior and Splash with Neocate Nutra to come up with different flavors. 
Top Eight Allergen-Free Lunch Ideas
If your child is on an elimination diet for eosinophilic esophagitis (EoE) or is avoiding all of the eight major allergens, you can offer some different food options along with one of the Neocate formulas. It may seem difficult at first, but you can still put together a lunch that looks pretty normal, even without the top 8 allergens. A few months ago we posted a week's worth of ideas for allergen free lunches. Bear in mind that while most processed foods have ingredients derived from the top 8 allergens, dining on whole foods makes the top 8 much easier to avoid. You may even be able to find convenience foods in natural or organic food stores that are free of the top 8, such as soups or frozen items. 
Less Restrictive Lunch Ideas
For children who avoid dairy and only one or two other allergens, we have some great lunch suggestions in our Neocate recipes section of this website.
As always, we recommend that you check any recipes you make to be sure that the ingredients are safe for your child and ensure that the health care team is on board.
Do you have any allergy-friendly lunches that have helped you that you'd like to share with other families?
– Rob McCandlish, RDN
Published: 02/28/2012