Patient History:
At ten days old, Tyler began to experience abnormal bowel movements. Symptoms worsened for the baby boy when he was unable to gain weight and started vomiting bile.
"We knew something was wrong," says Jeni, Tyler's mother. "It was difficult to have a baby who was wasn't thriving; we felt as though no one cared and we were ready to give up."
Tyler was administered multiple bowel motion tests to check for bugs, but the results showed he was clear. After a visit to the emergency room due to Tyler's constant vomiting, doctors still could not determine what was wrong with the baby boy.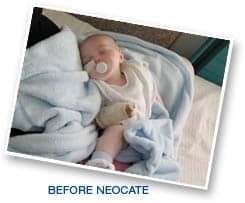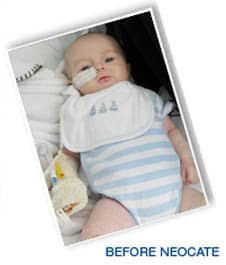 Nutritional Management and Outcome:
Tyler tried mutiple remedies with no succeess. When he tried soy formula, he vomited immediately afterwards and after taking a lactose-free formula, Tyler went into shock.
"Tyler was so sick," says Jeni. "He was a tiny little boy, close to death."
After undergoing other tests, doctors discovered that three month old Tyler had multiple food intolerances and recommended Neocate. "It took his stomach a while to get used to having digestible food in it again," says Jeni. "When he took Neocate, it transformed him into a healthy boy."
Summary:
With Neocate, Tyler will have the opportunity to gain weight and grow to be a strong, healthy child.
"It is just unreal how such a sick little boy can make such a healthy recovery," says Jennifer.