Patient History: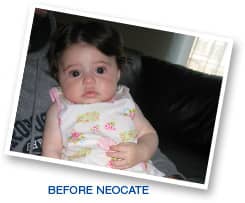 Sawyer was only one month old when she began to suffer from projectile vomiting, skin rashes, chronic cold symptoms and constipation. She was always extremely fussy while eating and would cry inconsolably until she fell asleep.
Sawyer's pediatrician said that she had colic and acid reflux and that after treating both of those conditions her symptoms would pass. Unfortunately, as time went on, Sawyer's condition continued to worsen and Sawyer's mother Staci knew something else was wrong.
"Sawyer was born a very uncomfortable girl. My husband and I were beside ourselves calming Sawyer down all the time. When she smiled, we truly cherished it," said Staci.
Nutritional Management and Outcome:
Over the course of three months, Sawyer saw four different pediatricians and her parents tried several treatments, including Nutramigen, Alimentum, Karo syrup, Zantac, Prevacid, Vaseline and several skin creams for her rashes. Unfortunately, none of these remedies worked.

"I was beginning to think I was a paranoid new mom. As a sufferer of Colitis myself, I couldn't figure out why no one would test a stool sample," said Staci.

Finally, Staci and her husband Eric found a pediatrician who agreed to conduct a stool sample test. Blood was found in Sawyer's stool and she was diagnosed with protein enteropathy. She was immediately put on Neocate, a hypoallergenic formula made up of individual amino acids (the building blocks of protein) that Sawyer could digest properly.

Within two days of being on Neocate, Sawyer showed significant improvement. She was anxious to eat, much calmer and napped easily.

"At first we were skeptical since nothing else had worked," said Staci. "Now, Sawyer smiles all the time and my husband and I can eat dinner together while she is calm and happy, instead of her usual crying fits."
Summary: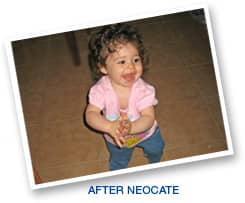 It took three long months of going from doctor to doctor and trying several different treatments before Sawyer received the correct diagnosis of a protein enteropathy. Thanks to Neocate, Sawyer's rash has gone away and she is no longer constipated and cranky. Sawyer is now a happy and relieved baby girl.

"Neocate is a miracle for us! We have complete peace of mind now, and our precious girl is so happy!" said Staci.