Meet Remington! He is 18 and diagnosed with Eosinophilic Esophagitis (EoE), a food allergy-related condition. Read his story and how Neocate® Splash supports his nutritional needs and gives him the freedom to stay active and live a normal life. Here's what Remington wrote when he was 17:
"I'm Remington and I'm 17 years old. I was diagnosed with Eosinophilic Esophagitis at the age of 3 and was removed from all foods at the age of 4.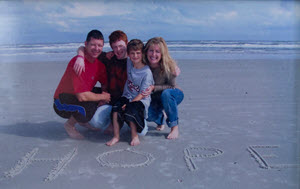 My sole source of nutrition has been Neocate® Splash for the past 14 years. Currently I have no safe foods in my diet. Neocate Splash is still my only source of nutrition. My disease, nor my nutrition limit what I am able to do. I attend public school, play baseball, work out daily to keep my muscles healthy and also have a part-time job.
Neocate Splash is portable and easy to carry along, even when I travel. I'll soon be traveling out of the country to play baseball and Neocate Splash will be there as well. I just need to plan ahead to make sure I have enough Neocate Splash on hand to meet my daily requirements. I don't know where I'd be today if I didn't have Neocate Splash to keep me going."
This year, a year after Remington wrote the abstract above, the Neocate team captured an update on how he is doing. Watch the video below to find out: 
Teens and children with severe food allergies often cannot eat the foods that a lot of us take for granted! To stay healthy, they may need to be on a strict elimination diet and supplement their nutrition with specialized hypoallergenic amino acid-based formulas, like Neocate. 
Learn more about Neocate Splash.