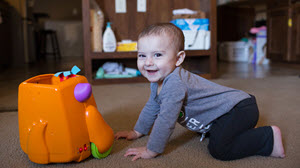 My son Reagan is 9 months old. He is currently using Neocate® Syneo® and is doing great on it. Reagan was born at 37 weeks 2 days and a healthy 7 lbs 1.9 oz and 19 inches.
He immediately was having signs of reflux, colic and couldn't poop. On his first day home from the hospital he started having a severe diaper rash and blood in the stool. I immediately called his pediatrician to have an occult test done and he was diagnosed with severe acid reflux.
At this point he was extremely colicky, had foul smelling gas, had a rash on his face, neck and chest, and was very dry and scaly. He wouldn't sleep more than a little bit unless he was laying on me or my husband and was also struggling with poor weight gain. He was finally diagnosed with a dairy and soy allergy with the reactions being GI and skin related.
After another occult test was done on his stool his pediatrician switched him to Neocate® Syneo® and that was a game changer. All his symptoms disappeared besides the ones associated with his reflux and he has been thriving ever since. He seems to be reaching all his milestones and gaining weight appropriately too.
Watch Reagan's story:
– Felicia
Mother of Reagan, age: 9 months, Diagnosed with multiple food allergies
*Results may vary