Patient History:
From the time he was only a few days old, Levi was a fussy baby. Soon he began crying even more, vomiting, gagging, choking and wheezing. He had difficulty sleeping and he could only rest if he was propped up on his mother Laurie. His skin changed color, becoming very red. He developed a rash all over his face and neck that left his skin extremely dry, especially around his ears. "Having a sick baby in the house was very stressful for the entire family," says Laurie. "Our 2-year-old daughter had to deal with a crying baby all the time, and the fact that mommy and daddy weren't there for her as much because the baby demanded so much of our attention. And the sleepless nights were horrific for everyone."
Nutritional Management and Outcome:
After doing her own online research, Laurie realized Levi had reflux. She switched his formula to Enfamil but didn't see any improvement in his symptoms.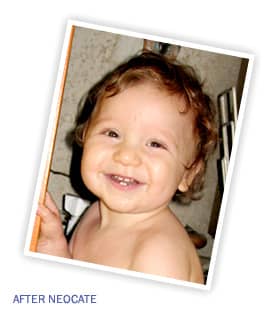 He was only four weeks old when his pediatrician confirmed he had reflux and began a very aggressive treatment. He advised Laurie to try using a formula called Alimentum, along with a dose of Maalox prior to each feeding, and Pepcid. When Levi's condition did not improve, the doctor then prescribed Prevacid, a steroid medication. Still, there was no relief for Levi and his family. After an x-ray of Levi's upper gastrointestinal system confirmed that he had reflux and not another medical condition, the doctor then recommended that Laurie switch Levi's formula once again – this time to Neocate Infant. Neocate Infant is a special hypoallergenic formula for babies like Levi whose bodies cannot digest the whole proteins found in milk. For him, the intolerance was causing him to suffer from reflux. Instead of whole proteins, Neocate is comprised of individual amino acids (the building blocks of protein) that babies like Levi can tolerate. Within the first 10 bottles, Laurie noticed a huge improvement in Levi. His skin began to clear up, he was spitting-up less and he appeared much happier and more comfortable. "The first day he was on Neocate was the first time in his short life that he napped for more than a few minutes. He slept all day as if he was catching up on all the lost sleep," says Laurie.
Summary:
After four months of constant crying, sleepless nights, vomiting, wheezing and a painful skin rash, Levi finally found help with Neocate, an amino acid-based formula that his body could tolerate.
"At birth, Levi weighed only 6 pounds 4 oz.," explained Laurie. "After beginning Neocate and some early solids, Levi was finally able to gain weight and at one year weighed 25 pounds." Now Levi is a happy baby boy and he – and the rest of his family – can sleep through the night.