Ken began to develop an itchy, red rash on his face when he was just two months old. The condition had worsened by the time he was four months old. Poor baby Ken was miserable, always crying and rubbing and scratching his face.
Since Ken's parents had actually been through this before with their older son R.J., this time they knew just what to do.
"Since his older brother R.J. had the same problem and it improved so quickly with Neocate we were at ease knowing that Neocate would work for Ken as well," said R.J.'s and Ken's father.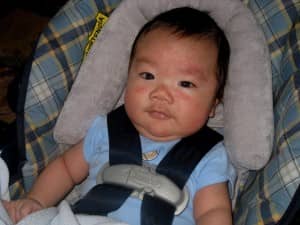 Ken Before Neocate
At four months old, when Ken's rash worsened, his parents switched him to Neocate, an elemental formula for infants and children with allergies to the protein in milk and soy products, which had been successful for Ken's big brother RJ.
Some of the most common symptoms of milk protein allergy are vomiting, diarrhea, bloody stool and other gastrointestinal issues. However, many babies-like Ken and his older brother R.J.-experience painful skin rashes as a symptom of milk protein allergy, which can be relieved by removing the allergens from the diet. For Ken and R.J. the rash went away when they switched to Neocate, which contains individual amino acids instead of the protein chains they were allergic to.
"Within a few days, Ken's face cleared up and he was no longer rubbing and scratching, Neocate was all it took to relieve his rash," said R.J.'s and Ken's father.
Ken and RJ After Neocate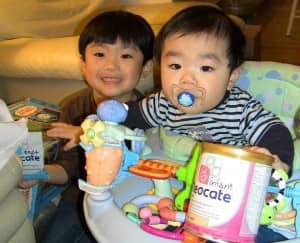 Before Neocate Ken couldn't help but rub and scratch at it his eczema. Now, thanks to his pediatrician and some help from big brother R.J. he is a happy healthy baby.
"Neocate products are invaluable to our family, R.J. is now four years old and thriving on Neocate One+ while Ken is rash free on Neocate Infant," said R.J.'s and Ken's father.
If you want to share your before and after photos, we'd love to see them!