Patient History: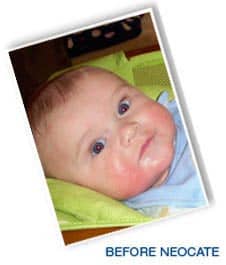 Within the first two months of birth, baby Jude suffered from weeping eczema and severe reflux.  Jude stayed up all night itching and couldn't sleep or eat.  Formulas like Similac Advance and Nutramigen as well as topical cream for eczema didn't do much to improve his symtpoms.
"He was miserable and it was hard to see him so uncomfortable eating," says mom Paige.
Nutritional Management and Outcome:
Parents Paige and Andrew were told that their baby's troubles were likely normal baby problems.  Jude eventually ended up in the emergency room due to a heavy growth of staff from the open eczema wounds he had been scratching on his arms.
More than 10 trips to the pediatrician later, Jude was finally referred to an allergist, who diagnosed the baby with allergies to milk, eggs, wheat, soy, barley, carrot and peanut.  Finally, a doctor recommended Neocate.  After only three weeks, Jude's parents began to see significant improvement in the symptoms their son had had for six months.
"He has been on Neocate now for about six months and is eating better than ever!" says Paige.
Summary:
For six months, Jude suffered from extreme eczema and reflux that didn't allow him to eat or sleep comfortably.  Many doctors' visits later, Neocate was recommended for Jude.
"I am so grateful for Neocate Infant formula," says Paige.  "This saved my son's life!"