Patient History:
Braelyn was only three weeks old when she began experiencing the symptoms of gastroesophageal reflux disease (GERD).
She had terrible gas pains that caused her to constantly cry throughout the day. Her reflux caused her to choke, cough and wheeze in her sleep and several times it got so bad she stopped breathing.
In addition, she developed a terrible rash on her face and to stop the itch she would try to scratch herself on anything.
"Braelyn couldn't sleep and was in so much pain," says Braelyn's mother Ashley. "It was exhausting and our family didn't get any sleep because caring for a baby with GERD took so much attention." 
Nutritional Management and Outcome:
When Braelyn first started experiencing GERD symptoms, Ashley took her to the pediatrician who confirmed the GERD diagnosis.
The pediatrician started Braelyn on Zantac and recommended that Ashley try holding Braelyn in different positions during feedings and keeping her in an upright position to sleep.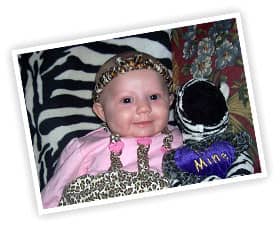 The Zantac didn't improve Braelyn's symptoms, so the pediatrician switched her medication to Prevacid and told Ashley to switch the baby to a soy-based formula. When that didn't work either, Ashley took Braelyn to a gastroenterologist. 
The gastroenterologist prescribed Neocate®, a hypoallergenic formula comprised of amino acids (the building blocks of protein) instead of the full or partial protein chains in other formulas.
"After five days of Neocate Braelyn started to feel so much better," says Ashley. "Feedings were calm, her face cleared up and she was smiling more and sleeping more!"
Summary:
After almost a month of suffering from the painful symptoms of GERD, Braelyn and her family finally found relief with Neocate.
"Neocate has saved our lives!" says Ashley. "I'm so glad I found this formula to help out my daughter. She is a much happier baby and she loves to eat now!  Thank you Neocate!"