Patient History: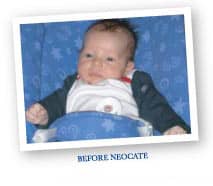 From the time Aidan was born, mealtimes made him extremely uncomfortable. "He got worse as he got older and we could not pinpoint what was causing the issues," says his mother Laura. Aidan was unusually gassy and he experienced painful eczema on his face. His extreme fussiness was hard on the entire family.
Nutritional Management and Outcome:
Laura and Brett felt like they were constantly at the pediatrician's office, who insisted that Aidan was suffering from colic. However, since the baby was losing weight, the doctor told Laura to supplement her breastfeeding with a hydrolysate formula. But Laura says it only made Aidan feel worse. After doing her own research, Laura suspected Aidan might have some type of an allergy. So, she eliminated multiple foods from her diet, including milk, eggs, wheat and soy. Despite her efforts, Aidan's condition still did not improve so his parents decided to consult an allergist. The skin test the allergist conducted on Aidan showed no allergy to soy so the family tried a soy-based infant formula. At the first feeding, the formula caused Aidan to vomit for nearly six hours. That's when Laura scheduled an appointment with a gastroenterologist who prescribed a medication to treat his reflux symptoms. Even with the reflux medicine, Aidan was still not a healthy baby. Frustrated, Laura and Brett took Aidan to a new pediatrician. The pediatrician did an upper GI test and blood work that indicated both reflux and an allergy to milk and eggs. Laura asked about Neocate, an amino acid-based infant formula that she had discovered in her research. The pediatrician agreed that Aidan should try this hypoallergenic formula. "Neocate immediately made a difference," says Laura.
Summary: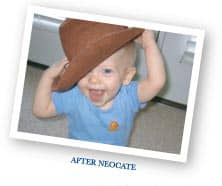 It took five long months for Aidan to receive a proper diagnosis of milk and soy allergies and reflux. Once diagnosed, his new pediatrician recommended Neocate. Dietary management with Neocate quickly improved the conditions that were making Aidan so miserable. Now Aidan is a happy, healthy baby who is no longer in pain.