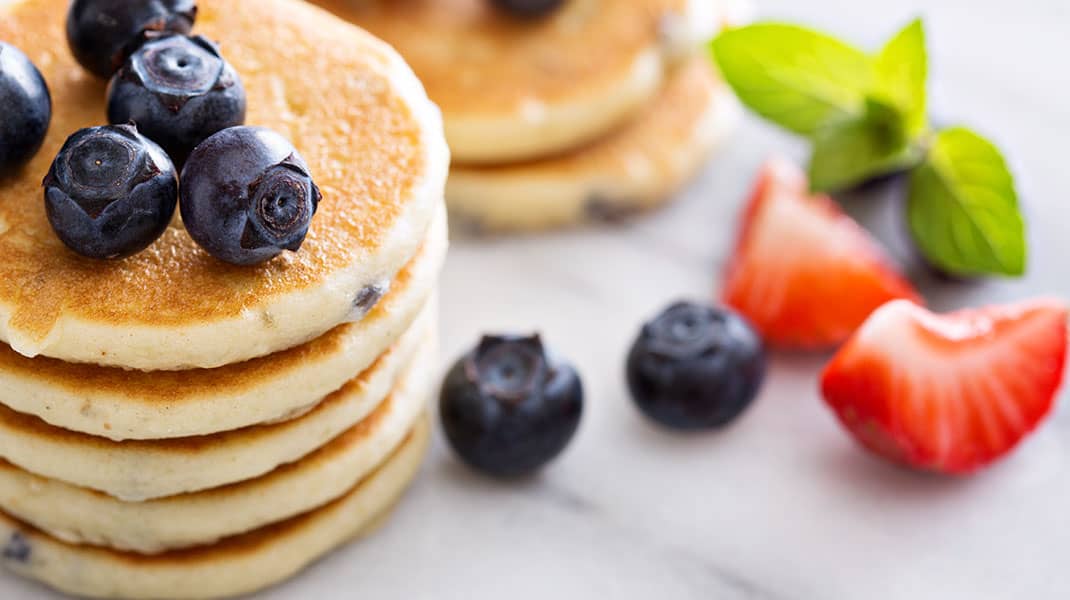 Doesn't this name just makes you want to try some? This is a great recipe if you are looking for a nice, hot breakfast option. Perfect if the rest of your family is eating pancakes and you are looking to make an allergy-friendly option. Pancakes also make a good finger-food option for weaning toddlers.
Ingredients
½ cup rice flour
½ tsp baking soda
½ tsp cream of tartar
1 tsp maple sugar (or other granulated sugar)
Pinch of salt
½ cup dry brown rice
½ peach or banana
3 fl oz vanilla rice milk*
1 Tbsp vegetable oil
5 level scoops Neocate Junior with Prebiotics, Unflavored powder
*Rice milk is not true milk – it is sometimes described as rice drink.
Instructions
• Oil and preheat a nonstick griddle or skillet
• In a medium bowl, combine the rice flour, baking soda, cream of tartar, sugar and salt
• Grind the brown rice in a food processor or blender and stir into the other dry ingredients
• Puree ½ peach or ½ banana and stir into the mixture
• In a separate container (with a lid) combine the water, Neocate Junior and oil: Shake well
• Pour mixture into the dry ingredients and mix just until combined, do not beat or over mix
• Spoon ¼ cup of the batter onto the hot griddle or skillet. Cook until the tops are bubbly and edges are brown
• Turn and cook until light brown
• Serve immediately or store in a refrigerator for up to 24 hours
Notes and Allergens Information
Serving size: ~2 pancakes
Consult your healthcare professional to determine if this recipe, ingredients, and consistency are appropriate for your child. Nutritional values are approximate and will vary based on quantities and substitutes. Cooking with or freezing Neocate may affect some nutrient levels.
Image used is for illustrative purposes only and does not represent finished recipe.
Last updated January 24, 2019
Nutritional Information Per Serving