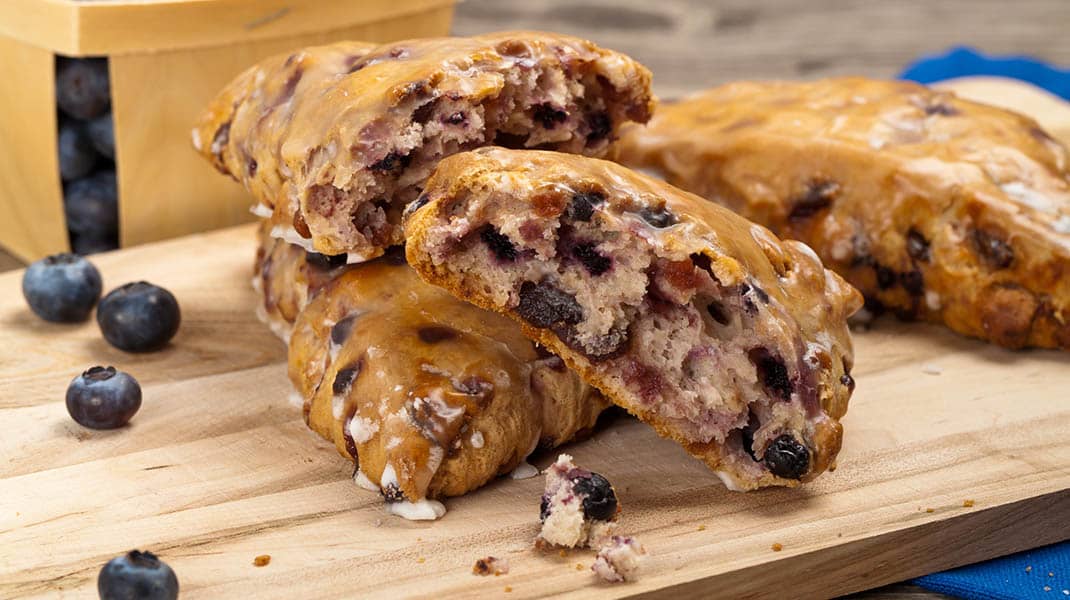 Looking for an allergy-friendly brunch recipe? Our Neocate® Splash Blueberry Scones are perfect as a dairy-free dessert, lunch, or even a snack idea. This recipe, developed by a professional chef who also happens to be a Registered Dietitian, is one of our favorites!
If you are feeling adventurous: experiment with this recipe by substituting another flavor of Neocate Splash. To meet a variety of taste preferences, Neocate Splash comes in four flavors: Orange-Pineapple, Grape, Tropical Fruit, and Unflavored. You could also substitute prepared Neocate Junior! Another fun addition is to sprinkle the scones with sparkling sugar, cinnamon sugar or a sugar glaze, if desired.
For drier scones, use less of the Splash mixture. Looking to add a little pizzazz to your scones? Sprinkle them with sparkling sugar or cinnamon sugar, if desired.
Ingredients
1 ¾ cups gluten-free all-purpose flour substitute
½ cup sugar
2 tsp baking powder
½ tsp salt
½ tsp xanthan gum (optional)
¼ tsp nutmeg (optional)
¾ cup non-dairy margarine (or allowable fat substitute), cold and cut into pieces
¾ cup blueberries, fresh
1 Tbsp egg replacer mixed with ¼ cup water
2 tsp real or imitation vanilla extract
½ cup Neocate Splash, Tropical Fruit
Instructions
Preheat the oven to 400°F.
Line baking sheet with parchment.
Whisk together the flour substitute, sugar, baking powder, salt, and xanthan gum and nutmeg, if using.
Work in the cold margarine till the mixture is crumbly with a pastry cutter or fork.
Stir in the blueberries.
Whisk together the Splash Tropical Fruit, egg substitute, and vanilla till frothy.
Add to the dry ingredients, stirring till well blended. The dough should be cohesive and very sticky.
Drop dough by rounded tablespoons onto the baking sheet. Let the scones rest for 15 minutes.
Bake for 15 to 20 minutes, until golden brown.
Remove from the oven and let rest for 5 minutes or so before serving.
Notes and Allergens Information
Serving size: 1 scone
Want to save this recipe for later? Pin this image: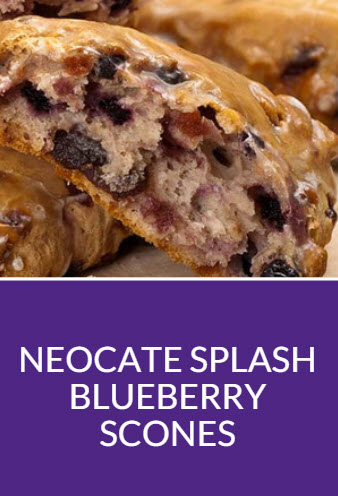 Consult your healthcare professional to determine if this recipe, ingredients, and consistency are appropriate for your child. Nutritional values are approximate and will vary based on quantities and substitutes. Cooking with or freezing Neocate may affect some nutrient levels.
Image used is for illustrative purposes only and does not represent finished recipe.
Nutritional Information Using Neocate Junior