Our guest blog post today is from Lynda Mitchell, President of Kids With Food Allergies Foundation
Nutricia North America was a platinum sponsor at the Kids With Food Allergies Foundation 4th annual family event and fundraiser in Philadelphia on September 9, 2012.  The Strides for Safe Kids Mall Walk and Expo welcomed nearly 500 attendees, who gathered to raise funds to support KFA's mission to keep children safe and healthy by educating and supporting their families.
The event included:
A fundraising walk through the interior of the Plymouth Meeting Mall. Our supporters raised more than $25,000 that will be used to keep children safe and healthy!
An award presentation to special guest, Representative Thomas Murt.  We awarded a certificate of appreciation for the work he's done in Pennsylvania to protect students with food allergies in schools.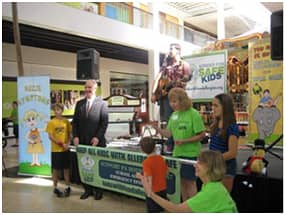 Exhibitor tables to find out more about their products and services.  Many vendors offered free samples of their products.  All products had ingredient statements on them so parents and kids, too, could read the labels!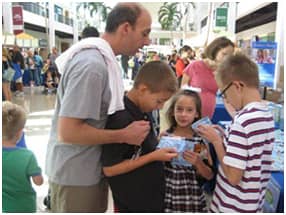 A concert by the world's only food allergy musician, Kyle Dine.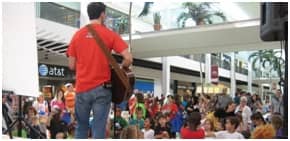 An advocacy table where parents and kids could learn more about school food allergy bills and sign posters to support state bill 5067, School Access to Emergency Epinephrine, a bill in the Pennsylvania House of Representatives designed to keep all children with allergies safe in school.  Parents could also sign posters for similar bills in New Jersey and a federal bill in the senate.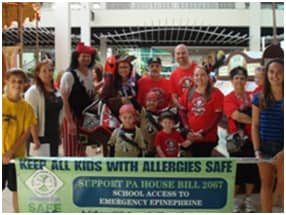 A magic show by magicians Kyle and Kelly.
A lovely play area and carousel surrounding the event inside the mall.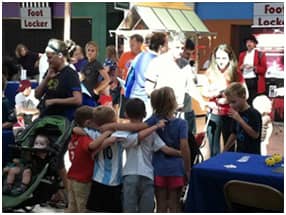 We thank everyone who came to the event to make it a wonderful day for families and a successful fundraiser for Kids With Food Allergies Foundation.  We also thank Nutricia North America for being a platinum sponsor of the event and supporting our ongoing work.  We are looking forward to our 5th annual event next year – we hope to see you there!
– Lynda