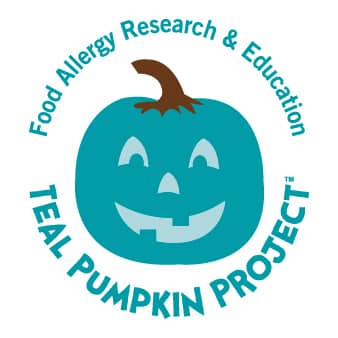 Last year, we were very excited to see how the Teal Pumpkin Project took off! This concept started in Tennessee with the local food allergy group, FACET, and is now led by Food Allergy Research & Education (FARE). This year, we've noticed even more news coverage and buzz around this great initiative. One of my neighbors even posted about her family's teal pumpkin, and encouraged the whole neighborhood to participate! This is great news for children with food allergies who just want to get in on the trick-or-treating fun. This year, Nutricia as a company is fully embracing the Teal Pumpkin Project!
Trick-or-Treat with a Cause!
This year, the Neocate team is encouraging our entire company to help raise awareness of food allergies and promote inclusion of all trick-or-treaters during Halloween by participating in the Teal Pumpkin Project. You can learn more about the project and how you can get involved here.
Our company leadership was so excited by this great initiative that they offered to cover the cost of non-food treats for trick-or-treaters with allergies. Since our employees are scattered across the United States and Canada, we know that our company can help make a difference for hundreds of families in North America! To add some excitement, we're even offering a prize to the employee who has the most creative teal pumpkin. (Who doesn't love a contest?)
What allergy-friendly non-food items are you passing out for Halloween this year as part of the Teal Pumpkin Project?
-Rob
Image from FARE The TEAL PUMPKIN PROJECT and the Teal Pumpkin Image are trademarks of Food Allergy Research & Education (FARE).