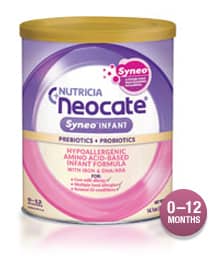 We are excited to announce the launch of the latest addition to the Neocate line of products: Neocate® Syneo® Infant. This is the first and only hypoallergenic formula with prebiotics and probiotics, specifically designed for food-allergic infants.
Who Is This Formula For?
Neocate Syneo Infant is specially formulated for the dietary management of infants with:
cow milk allergy (CMA),
multiple food allergies (MFA), and
related GI and allergic conditions, including:

food protein-induced enterocolitis syndrome (FPIES),
eosinophilic esophagitis (EoE), and
gastroesophageal reflux
Neocate Syneo Infant is special formula – a medical food, to be exact – and should only be used under medical supervision. It's important to always contact a healthcare professional before making any changes to your baby's diet.
To learn more about the product, please go to https://www.neocate.com/syneo/