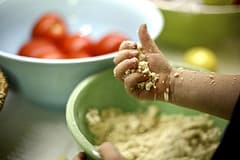 Getting kids involved in preparing meals and doing fun activities together before and during mealtimes can help to build healthy habits. Children with food allergies may especially benefit from positive activities centered around mealtime to remind them that food can be fun. Even though a special diet might require a little more thought and planning, it's important to create these positive experiences.
Involving children in preparing meals is a great way to build autonomy and confidence. What better way is there to teach children about food than to actually involve them in the process with their own hands?  Bring them along to the grocery store with you and have them help you choose ingredients. Involve them in the preparation and cooking process based on their abilities for their age. Try turning the TV off and put electronics away during meals, as mealtime can be a great opportunity for families to bond and catch up on each other's days.
Here are some fun ideas for activities that families can do during mealtimes to have fun, learn about food, and enjoy mealtime together!
Play Restaurant
Children love to play "restaurant" at home. At a family meal, let your child pretend to be a waiter or waitress. First tell your child what is on the menu for dinner. Then give your child a small pad of paper and a pen to take orders from the customers. Let him or her serve the food and then he or she can leave the check. To extend the play, ask your child to create their own "real" menus for the next meal.
Thankful for ABC
What are you thankful for? Even on our worst days, we can still find things for which we are grateful. Go around the table and have each family member share something for which he or she is grateful in alphabetical order. For example, you're thankful for apples, your son is grateful for bananas, and so on until everyone is feeling thankful from A to Z!
Family Recipe Cards
Your child can create a recipe card for any simple meal, for example "How to make a turkey sandwich." Give your child paper or index cards and writing utensils and ask him or her to draw each step as you make the sandwich. If your child likes this activity, he or she can make a whole set of recipes.
Taboo Story
Each family member takes turns talking about his or her day, but first picks a letter. Words beginning with that letter may not be used in the description of one's day. The "taboo words" can make these stories a comical vocabulary exercise. Make sure each family member gets a chance to participate.
Theme night
To change up your routine, offer a theme meal night or host a dinner dress up night! Some ideas you can include: International Night, Halloween, Luau, Pajama Night, Breakfast for Dinner, Backwards Day.
Ingredient Race
Pick one of the ingredients from a meal and put it on the counter or in the center of the table. Give everyone 2 minutes to write down as many meals that use that ingredient as possible. Whoever comes up with the most meals wins!
What are some fun mealtime activities you and your family engage in? We'd love to hear your ideas!
-Hilary Smith, RD
Resources:
http://thefamilydinnerproject.org/fun/fun-with-food-prep/
http://www.letsmove.gov/blog/2014/11/20/making-mealtime-family-time
http://www.pbs.org/parents/education/reading-language/reading-activities/reading-activities-at-mealtime/
http://www.sheknows.com/parenting/articles/824467/5-games-to-play-at-the-dinner-table
Image source: Stephanie Sicore
Published: 09/29/2015