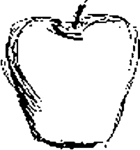 For infants and children with food allergies, transitioning to solid foods can be tricky. I recently helped write a transition guide to help parents through this sometimes-difficult task. Even though this transition might cause anxiety, it is an exciting and very important time in a child's life.
The guide, called Feeding Tips for a Successful Transition, is a great quick reference for parents when they are at this step in their little ones lives.
The general guidance from most groups around when to introduce solid is a little vague for a reason: every child is different. Most organizations suggest that infants shouldn't start solids until they reach 4 to 6 months of age. That's a big window! On top of those recommendations, some healthcare professionals suggest that infants with food allergies should wait until they've reached six months before having any solid food introduced to their diet, to allow the immune system to mature.
The early stages of the transition should allow your baby to get used to the taste and texture of foods, as well as feeding from a spoon. In the later stages, the solid foods should provide most of your child's nutritional needs.
The various sections of the Guide detail the different phases of food introduction as well as what foods your child should be given. Here is a list of the provided sections:
The Challenge Phase – Consists of introducing a few core foods to the diet to see what your baby can tolerate;
Which Foods Should I Give My Child? – You should introduce the foods least likely to cause allergic symptoms first;
The Importance of Texture – The food introduction process should be gradual and split into three different texture stages: thin and smooth, lumps and chunks, and finger foods; and
Recipes – A list of recipes are provided to make the management of your child's new diet easier.
Of course, you should always discuss any changes in your child's diet with your doctor or dietitian first.
– Sarah O'Brien
Published: 07/10/2008