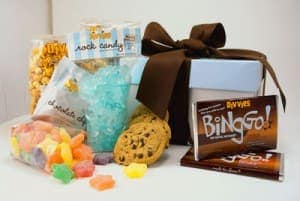 The holiday season has begun, it is time to start planning the gift giving. When you are getting a gift for someone with food allergies, holiday gifts can be complicated. Here are some really cool and useful gift ideas for those with food allergies (also included; what not to give!)
Holiday Candy Ideas:
(When buying candy, be sure you know the specific allergies of your gift recipient.)
Yummi Earth Hard Candies – Yummi Earth hard candies come in fun flavors like Googly Grape, Chili Mango Mambo, or Hopscotch Butterscotch. All are organic, vegan, and free of nuts, soy, wheat, eggs, peanuts, gluten, dairy, corn syrup, and artificial flavors.
Vermont Nut-Free Chocolate Coins – Kids of all ages will love these nut- and peanut-free chocolate coins. Vermont Nut-Free Chocolates are made in a dedicated nut-free facility. Caution these have milk.
Pure Fun Organic Candy Canes – These candy canes are free of the 8 most common allergens, artificial colors and flavors, and are kosher.
Gift Basket Ideas:
Divvies – Divvies stylish gift baskets are full of treats that contain no nuts, eggs, or dairy. They specialize in gourmet cookies, chocolate, and popcorn.
The Royal Basket Company – This offers a variety of allergy-friendly gift baskets that are searchable by allergen or diet (sugar free, GF/CF). Plush teddy bears perch atop piles of allergy-friendly toys and sweets for the little ones, while adults may enjoy a basket of "Gourmet Pleasures" with smoked salmon, olives, and crunchy snacks.
Allergen Friendly Toys and Books:
Allergy-friendly stuffed animals: Because many children with food allergies also have asthma, and some plush animals may be stuffed with nut shells or soy-based fibers, certified asthma friendly stuffed animals take the worry out of shopping.  Build-A-Bear® offers an Allergy-Friendly Stuffed Animal Puppy that might be perfect for a little one.
Children's books – Children's books about food allergies make great gifts at any time of the year. This holiday season a book that was suggested is Clever Jack Takes the Cake, a fairy tale that features a princess with food allergies. If you are buying for a toddler with soy allergies, avoid books printed with soy-based inks.
Speaking of books; here are some notable ideas:
Subscription to a food allergy magazine – Living Without or Allergic Living are great resources for the newly-diagnosed or those looking for new tips and recipes.
Books about food allergies – There are many good books about food allergies on the market these days. Someone with newly-diagnosed food allergies might like Food Allergies for Dummies, while someone who has been managing allergies for years might enjoy a personal memoir.
What not to get for people with food allergies (unless their parents tell you it is OK):
Toy food versions of their allergens
Modeling clay or play dough (many are made from wheat or contain soy)
Paints or crayons (may contain dairy or soy)
Temporary tattoos, make-up or body paints (anything that goes on the body requires extra scrutiny from parents)
Bubble bath (many contain dairy, soy, or nuts, or may just irritate sensitive skin)
Homemade food. Even if all the ingredients are safe for your gift recipient, the risk that something else made its way into the food (cross-contamination) is too great.
Lotions, soaps, or massage oils. Nuts, dairy products, or soy are often in bath and spa products.
Scented candles or perfumes. Many of us also have environmental allergies or asthma, and artificial scents can aggravate our symptoms.
Let us know if you've come across any other fun and original gift ideas. The more we know the better!
Best wishes this holiday season!
– Christine Graham-Garo
Published: 12/02/2010