Choosing the right formula when you have several options can sometimes be a difficult decision.
In the Neocate range of products for children over 1-year-old, you certainly have options! The Neocate® Junior and Neocate® Splash products are very similar, with a total of 11 (ELEVEN!) options.
So how do you know which is the best option for you or your child?
In this post, we'll walk you through some of the differences between these products, which might help you with this decision. As always, consult your healthcare team before making any formula switch, or if you or your child are ready to start using one of these formulas.
Supplement or Sole Source?
For some children, a Neocate product is used as a supplement to the diet, whereas for other children it is the sole or primary source of nutrition (meaning little or no nutrition comes from "regular" foods). If you're not sure whether you or your child will use a Neocate product as a supplement or a sole source of nutrition, ask your healthcare team!
(Healthcare professionals can help here, as nutrient needs are different for every person, and vary based on age, weight, activity level, and medical conditions).
Neocate Junior and Neocate Splash products both provide some of every nutrient and can be used interchangeably as the sole source of nutrition. That means that any one of these products can meet 100% of nutrient recommendations for most children. The healthcare team should help decide which product is the better fit.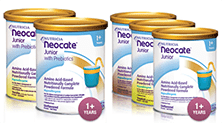 Formula Format
Are you looking for a formula that doesn't require mixing? If so, then Neocate Splash may be a better fit. Neocate Splash comes in a convenient drink box and do not require adding water or mixing before consuming, just shake well! Another convenience? No refrigeration required before opening.
On the other hand, if mixing formula isn't a problem, our Neocate Junior products may be a better choice. This product is ideal when you're traveling and want to carry a lot of formula in a little space. In some cases, a healthcare team may recommend that you have formula that's more concentrated (e.g. when someone can't consume a large volume of formula at once). In that case, Neocate Junior products can be concentrated, by adding less water based on the healthcare team's guidance.
In some cases, families find that both products fit into their lifestyle! Neocate Junior products work well in the home, and Neocate Splash products are helpful on the go.
Flavor Variety
What flavor does your child prefer? Both formulas come in a variety of flavors because we want you to be able to find one that works best for you and your child! In some cases, you may be able to use a few flavors to help with variety. Here's a rundown of the flavor options:
Fiber, Fiber, Who Wants Fiber?
Fiber is an important part of a typical diet. However, many children who need Neocate can have limited fiber intake. For that reason, all flavors of Neocate Junior have added prebiotic fiber. (An unflavored version without prebiotic fiber is also available.) Not sure if you should choose a Neocate product with or without prebiotic fiber? Your healthcare team can help!
We hope this has helped you choose which Neocate product may be best suited for your child's nutrition needs!  If you have any questions, contact your healthcare professional to help you decide. For questions about Neocate products, please contact our Nutrition Specialists at 1-800-Neocate.
How did you decide which Neocate product(s) were the best fit for you?
-Ellen
Last updated January 24, 2019
Published: 04/19/2016