Patient History: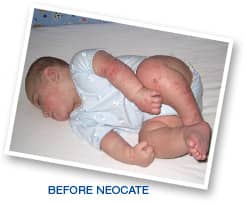 Joseph was only two months old when his parents noticed a small patch of dermatitis on his arm.
Over the next two months, the condition worsened and by the time Joseph was four months old, he was covered from head to toe in a severe rash.
Joseph was diagnosed with severe atopic dermatitis. He was constantly scratching himself – including while he was sleeping – and often started bleeding from the cracks in his skin. To make matters worse, when he was awake the extreme discomfort caused Joseph to scream and yell throughout the day.

"My husband and I were so frustrated with Joseph's crying and vomiting, we took it out on each other. It got to the point that I didn't want to take him to family gatherings so I would not have to hear how horrible he looks or answer the questions people would ask me," said Joseph's mother Maria.
Nutritional Management and Outcome:
When Maria and her husband Jeremiah first took Joseph to the pediatrician, they were told to apply lotion to the dermatitis and that his condition wasn't serious enough to worry about.
Unfortunately, the condition continued to worsen and within a few months Joseph's entire body was red and he was screaming uncontrollably. The doctor recommended that Joseph try Similac's Alimentum. The Alimentum formula seemed to work for awhile, but then the dermatitis came back and Joseph's skin began to crack and bleed again.

Maria and Jeremiah decided to get a second opinion and switched pediatricians. Joseph's new doctor put him on a soy formula, which only made his condition worse. Two weeks later he was back on Alimentum.

The doctor finally called to let Maria and Jeremiah know that the allergy test indicated that Joseph had a milk allergy. The doctor prescribed Neocate® Infant, a hypoallergenic formula made up of individual amino acids (the building blocks of protein) that Joseph could digest instead of the full or partial protein chains in the other formulas that caused him to have an allergic reaction.
Within the first month of being on Neocate, Joseph's dermatitis drastically improved. "The rash and redness that was all over him is gone," said Maria. "He smiles more, he giggles more and he is not screaming his head off."
Summary: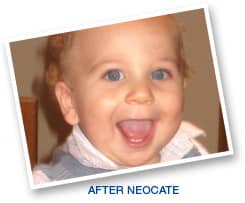 It took three difficult months of going to the doctor every other week and trying multiple formulas before Joseph received the proper diagnosis of a milk protein allergy. Thanks to Neocate Joseph's severe rash has gone away and he is now a happy and relieved baby boy.

"He is interested in everything now and the best part of it is that we got a little boy back!" said Maria.