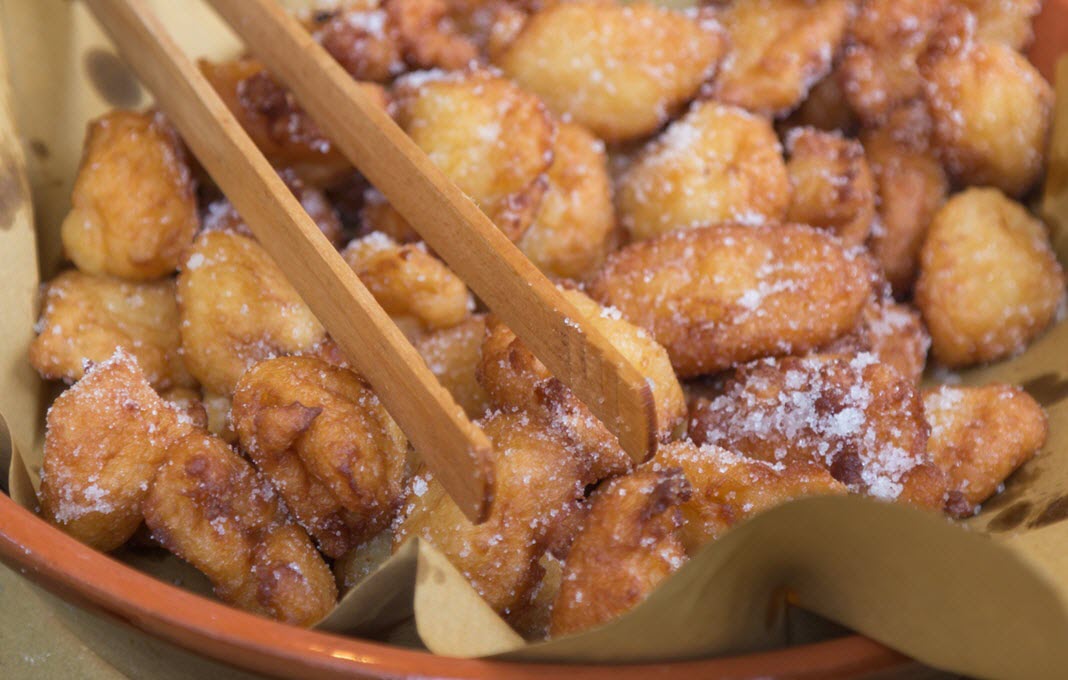 This Neocate Splash Donut Holes recipe comes from Raquel Durban, a Registered Dietitian specializing in immediate and delayed food allergies in Charlotte, NC. Raquel is a medical advisory board member for the Food Allergy and Anaphylaxis Connection Team (FAACT) and Parents of Allergy Kids (PAK) Charlotte and an active participant in the American Academy of Asthma, Allergy and Immunology (AAAAI). We would like to thank Raquel for this recipe.​
Nutrition information provided for fried donut holes, with optional sugar included but without toppings. Nutrition information will vary if recipe is baked instead of fried, if ingredient substitutions are made, and if toppings are included.
Ingredients
Oil or non-hydrogenated shortening for frying
1¼ cups white rice flour* (or other approved flour substitute) (200 g)
1 drink box Neocate Splash, Unflavored*
2 Tbsp granulated sugar, optional (25 g)
Instructions
Fill a shallow, heavy saucepan or Dutch oven with oil or shortening to at least ¼ inch deep (or up to 1 inch deep*). Place on stove over medium heat until oil is hot, but do not allow oil to smoke. If you have a kitchen thermometer, oil should be between 350-370' F. If you do not have a thermometer, dip tip of wooden skewer or strand of spaghetti into oil: it's ready when you see a lot of small bubbles.
While oil heats, mix all remaining ingredients in a medium bowl with a whisk until well combined. Dough consistency will resemble thick cake frosting.
Once oil is hot, drop dough by rounded teaspoonful into oil in small batches of a few at a time. Fry for 1-2 minutes, gently stirring continuously and flipping at least once halfway through cooking using a heat-safe spatula or fork, until golden brown on all sides. Remove donut holes from oil with a slotted spoon and drain on a plate lined with paper towels or a drying rack set over a baking sheet.
Repeat with remaining dough, frying in small batches, allowing oil to reheat between batches. Let donut holes cool a few minutes before enjoying.
Optional: Toss or dip freshly cooked donut holes in toppings such as powdered sugar, sugar + cinnamon, sugar + cocoa powder, non-dairy glazes or dessert sauces, or even a savory combination of salt and spices. Creative cooks can even fill donut holes with jam!
To bake instead of frying: Place a non-stick, metal donut hole pan (or similar mold shape) into a cold oven and preheat oven to 350' F. While oven heats, mix all ingredients. Optional: for best consistency, add 1 tsp of allowed baking powder to the dough. Once oven is preheated, pull the pan out and carefully distribute dough among wells. Bake 5-10 minutes until puffed and bottoms are golden brown, rotating pan halfway through cooking. Donut hole tops will be light in color.
Notes and Allergens Information
Yield: About 28 one-inch donut holes
Recipe can be halved. Uncooked dough can be refrigerated for up to 24 hours and cooked the following day. Can substitute ½ cup non-dairy beverage for ½ cup of Neocate Splash, Unflavored for a lighter flavor.
Recipe tested using Bob's Red Mill Stone Ground White Rice Flour, which many gluten-free home cooks rely on for baking due to its fine consistency, which absorbs water well. Using another flour substitute can affect consistency, cooking time, and nutritional composition. For a different flour, you may want to "rest" the dough for 30 minutes to absorb moisture before frying.
Frying in deeper oil yields donut holes with a more rounded shape. Make sure oil is the right temperature: Donut holes cooked in cold oil can stick to the pan and will absorb a lot of oil, becoming greasy. Oil that's too hot will smoke (which affects taste) or even catch fire.
Want to save this recipe for later? Pin this image: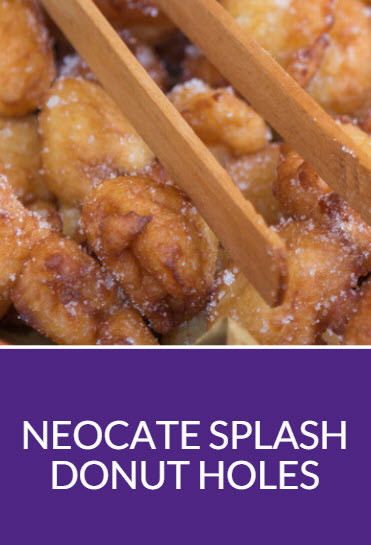 Consult your healthcare professional to determine if this recipe, ingredients, and consistency are appropriate for your child. Nutritional values are approximate and will vary based on quantities and substitutes. Cooking with or freezing Neocate may affect some nutrient levels.
Image used is for illustrative purposes only and does not represent finished recipe.