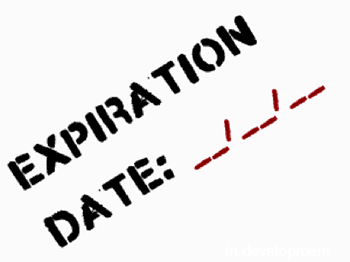 I am generally a thrifty person.  Re-using or re-purposing old items, hunting for bargains, and attempting to stretch the use of my clothes, household items or even food I have purchased are all common practice for me.  My philosophy in life about finance is that you can always use more money than you have, no matter which socioeconomic category you and your family belongs to. So I might as well get the most enjoyment and use out of the things I have.
When I find something that is nearing, or just past its expiration date the thought "does this expiration date really matter?" passes through my mind every time.  I know many of you have the same thoughts and questions when it comes to Neocate, as I hear this question from those of you who call or email us almost every week. And this makes sense to me. I know Neocate is likely an important part of your little ones' nutrition, and often times their only nutrition or the only thing that works for them. And it is an important question.
Let me take a few minutes to answer those questions I hear often from parents just like you to help give you a better understanding. 


What Does the Expiration Date Mean?
The expiration date on any product is intended to be the last date when the product should be used. Many times you will see this noted as the expiration date, as it is on the bottom of your Neocate cans with "EXP" followed by a calendar date, or as the "use before" and "best before" date as it is noted at the top of our Neocate Splash drink boxes. 
Many people are surprised to learn that expiration dates are not generally federally required on most foods. In fact, Infant formula is one of the only items required to have a "use by" date according to the FDA regulations. When a date is included, it is required to have a full calendar date including the month, day and year according to the FDA. Some states do have requirements for dating of foods, although those requirements would be unique to that particular state. 


How Are Neocate Expiration Dates Determined?
Here at Neocate, we put customer safety first. We want to ensure your loved ones receive the nutrition they need to grow and thrive when living with food allergies and related conditions. We keep this primary focus in mind when determining the expiration date for Neocate, and actually test our Neocate over the shelf life under a variety of conditions to determine the expiration dates for all of our Neocate products and not just our infant formula, as is required by federal regulation. 
The most important factor considered is ensuring the nutrients are at the levels intended and noted on the label. Some nutrients, and particularly vitamins, naturally break down over time. Because many individuals use Neocate to provide all or most of their nutrition, it is very important that the nutrients are at the levels indicated on the label. Your healthcare team takes this information into consideration when directing you on how much Neocate your loved one should be consuming, and so we conduct extensive testing under a number of conditions to ensure the nutrients will hold up throughout shelf life and through the expiration date.
Other factors that are taken into consideration when companies such as Nutricia determine the expiration date include the durability of the packaging materials and quality of the product over the recommended shelf life. We want to ensure that the cans or drink boxes remain sealed and keep the Neocate inside safe until the expiration date. Neocate quality is also just as important. As ingredients break down this can also affect the smell or taste. As you may know, taste and smell are particularly important to some little ones, so testing is also done to ensure the quality of Neocate is maintained through the expiration date.


How Do I Know if My Neocate is Expired?
This is a question that I get quite often. And there is a lot of information printed on Neocate products, so it is not surprising that many of you wonder this same thing.  The expiration date can be located on the bottom of every can of Neocate. You will find that the expiration date is the full calendar date with a month, day and year after the letters "EXP". The expiration date is usually the first item listed, but always has "EXP" in front of it. Other dates you might notice is the date of manufacture, which is also a full calendar date and has the letters "MFD" or "MAN" in front of it.
On drink boxes such as Neocate Splash you will find the expiration date noted on the top of each drink box. It is the first date printed, and you will see a printed key just above the date with the "use before" and "best before" dates noted on the key. You may also notice that we list the date as a full calendar date with month, day and year all included.


What Happens If I Use My Neocate After the Expiration Date?
This is a question that I am asked nearly every time someone calls or emails to discuss our expiration dates. With all the factors that we consider when determining the expiration date, we do not test what will happen if someone takes Neocate after the expiration date. This is just something we would not do as we keep you and your loved one's safety in mind first here at Neocate. While the decision is best made by you and your healthcare team, we cannot recommend using any of our products after the expiration date. My best recommendation if you have further questions is for you contact your loved one's healthcare team for more direction.
What questions do you have about Neocate & expiration dates? Let us know in the comments below so we can answer your questions.
-Kristin Crosby
Published: 12/17/2016