As you may know, we have improved the vitamin and mineral profile for the Neocate Junior line. The Neocate Junior Chocolate product will be improved and available in mid-April.
We wanted to take a deeper dive into the enhancements in the micronutrient (vitamins and minerals) levels. Research shows that children with cow milk allergies (CMA) on a restricted diet have a higher risk of nutrient deficiencies specifically in vitamin D, calcium, riboflavin, as well as protein and total calories (Tuokkola 2010, Christie et al 2002, Henriksen et al 2000). In 2010 the Institute of Medicine (IOM) changed the vitamin D and calcium recommendations due to studies showing children and adults being deficient especially in vitamin D. The vitamin D recommendations were increased by 3 fold. This change in the DRI (Dietary Reference Intake) led us to improve our micronutrient levels in the Neocate Junior line to best meet the nutritional needs of the customers using our products. Below are the 11 vitamins and minerals we have improved and the reason behind the change.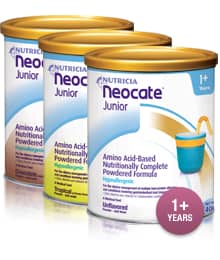 Vitamin D – Increased to help meet the new DRI of 15 mcg (600IU) per day for people ages 1-69 years.
Vitamin E – Studies show children with food allergies have low intake of Vit E. Vit E is also rich in food such as eggs, nuts, and cereals which are often restricted from children with multiple allergies.
Riboflavin – Studies show low intake in children with CMA. The level of riboflavin now is closer to that found in milk.
Sodium – Increased for children with GI symptoms as sodium loses may be increased.
Chloride – Increased to stay in line with preferred ratio of sodium to chloride.
Calcium – The amount of calcium in the Neocate Junior lines varied between different flavors. The levels are now consistent throughout the Neocate Junior line.
Phosphorus – Increased to bring the calcium to phosphorus ratio to an optimal level.
Vitamin B12 – Milk contains B12. It was optimized to better meet customers' B12 needs when on an allergen restricted diet.
Biotin – Biotin is found in milk, eggs, and nuts.  Biotin was optimized to ensure customers on restricted diets have favorable amounts.
Vitamin A – Modified to account for the Upper Limits for 1-3 year olds.
Selenium – Linked with improved immune function and is found in eggs and wheat which are often avoided in patients with multiple food allergies.
We hope this helps to understand the reasoning for the improved micronutrients. As a reminder, none of the macronutrients (protein, carbohydrates, fats) have changed. What do you think of the improved micronutrients? What do you know about recent reports of vitamin D deficiencies?