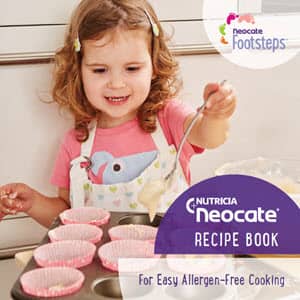 Who loves new food allergy-friendly recipes? This is why we are excited to announce the release of the Neocate Footsteps Recipe Book! In this recipe book, we have included some of our popular recipes as well as brand new ones developed having you in mind. We hope that this book will be a valuable resource for families of children with food allergies and help make mealtime a little bit easier for everyone. As a reminder, please check each recipe to be sure all ingredients are safe for your child and if you have any questions or concerns please consult your physician.
Download New Footsteps Recipe Book
Want to get a sneak peak, before downloading the recipe book? Here is one of our favorite recipes:
Meatballs in Tomato Sauce
Neocate Junior, unflavored is used in preparation of this recipe. Adding Neocate to food is easy, fast and safe. It can also help you or your child to tolerate other foods better. When cooking with Neocate, be sure to let very hot foods cool down a little before adding Neocate and not to reheat dishes prepared with Neocate.
What you need:
⅓ cup ground beef
2 Tbsp preferred bread crumbs
1 Tbsp finely chopped onion
1 small garlic clove, minced
Pinch Italian seasoning
2 tsp olive oil
½ cup chopped tomatoes
1 tsp tomato purée or tomato ketchup
1 scoop Neocate Junior, Unflavored
Directions:
Make the meatballs by combining the first five ingredients in a bowl or food processor.
Divide into six small, even pieces. Squeeze each tightly and roll into small balls.
Heat the oil in a wide pan. Fry the balls until browned. Remove meatballs to a plate.
Sautée the onion in the same pan until soft.
Add the garlic, tomatoes and purée/paste.
Stir thoroughly. Simmer for 5 minutes.
Remove from heat and allow to cool for 5 minutes. Stir in the Neocate Junior until thoroughly mixed.
Serve with the meatballs.
If you've tried any of these recipes, let us know what you think?  And if you have any creative recipes that help you incorporate Neocate, we love to hear from you as well.