For many families, getting to a diagnosis of a food allergy or related condition can be a tough journey. Many food allergies start with mysterious symptoms that mimic other conditions or diseases, which can mean multiple doctor visits for some families to reach a diagnosis.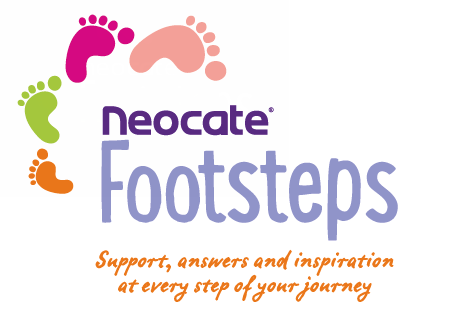 Newly diagnosed patients and their families often have a lot of questions such as:
What do I eat? Should I track it? What causes my symptoms?
Where to find specially prescribed formula?
How do I mix the formula? Store it? Travel with it?
Should the poop really be green with Neocate?
Do I have to pay out-of-pocket?
Neocate Footsteps App Idea
After discussing above identified pain points with Neocate families, we embarked to create an app that can help address some of these concerns. The Neocate Footsteps app is free and is available in iTunes now.
View Neocate Footsteps App on iTunes
This app is for anyone with food allergies or related conditions or those who care for them. The Neocate Footsteps App is the only app that specifically helps track usage of amino acid-based formulas and other food intake, allergic symptoms, mood, sleep times, diapers and more. This app provides helpful resources authored and edited by healthcare professionals on a weekly basis to help you stay in-the-know.
Here's a quick video that showcases various functions and features of the app:
How to Download the Neocate Footsteps App
Neocate Footsteps app is available for iOS devices only. Here are a few steps to get started:
Go to the App Store on your iPhone (or iPad*) to start. The App Store Icon looks like:

Using the Search option (located along the bottom of the screen), search for "Neocate Footsteps"
 
Once you find the app, tap "Get" on the right side of the screen, then tap "Install". If asked, enter your iTunes password. If you don't remember your iTunes password, you will have to retrieve/reset it before being able to download.
The app then will download to your device. Get excited!
Upon finishing, a new Neocate Footsteps app icon will appear on your device. The icon will look like: 
Tap on the icon to start using the app
*While the app is designed to work best on iPhones, it will also work on iPads. When searching the app store on an iPad, make sure to select "iPhone Only" from the search options to see the app. This option is located on the top left corner.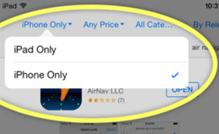 Once the app is installed you'll notice that it will automatically scale up to display full size on the iPad screen, causing the buttons, fonts and graphics to look proportionately larger than normal. If you want to decrease the size of the app to normal iPhone size, press the [1x] button in the lower right corner of the screen.
How Can The Neocate Footsteps App Benefit You and Your Family?
This app is designed for anyone with food allergies or those who care for children with food allergies, and allows patients, parents & caregivers to:
Track events and share reports with your healthcare team: Diaper changes, symptoms, sleep times, meals, bottles, mood, weight, height and head circumference.  Reports can be emailed in advance and shared during appointments.
Create and share allergy cards: Easily share important information about food allergies with babysitters, daycare providers or teachers, or with restaurant staff while dining out.
View easy-to-read charts that can help identify patterns in sleeping, eating, and allergic symptoms. You can even email these charts directly to your healthcare team ahead of time!
Attach images and notes to any event, such as a diaper or skin rash. No need to guess when a specific event happened, how many wet diapers your baby had that day, or what that rash looked like last Tuesday.
Additional features include
Tips & Resources: Read guidance written by healthcare professionals and other experts – updated twice weekly!
Allergy-friendly recipes: If you are new to the food allergy world or are in the phase of transitioning, we understand that you might be looking for delicious allergy-friendly recipes. With the app, you get access to a mobile-friendly way to browse recipes that incorporate Neocate products.
Reimbursement & Coverage: Navigating insurance coverage and reimbursement options can be a hassle. The Neocate Footsteps app offers a simple way you can call or email experts who can help you get through this challenging maze.
Pharmacy finder: Locate convenient pharmacies to order Neocate, or you can order directly through our website and receive free shipping.
Neocate product information: Detailed product information with the option to buy direct from the company.
The Neocate Footsteps App is all of the Neocate top resources in your pocket with you at all times!
The Neocate Footsteps program offers an array of resources to support, answer and inspire at each milestone of your food allergy journey.  Learn more about Neocate Footsteps program.
With a full line of amino-acid based products to help children thrive from infancy through school age and beyond, only Neocate offers a range of solutions designed to support you and your families at every step of your journey.